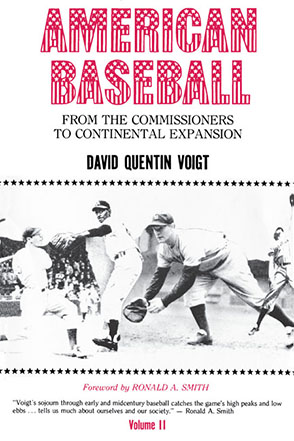 American Baseball. Vol. 2
From the Commissioners to Continental Expansion
David Quentin Voigt
Buy
American Baseball. Vol. 2
From the Commissioners to Continental Expansion
David Quentin Voigt
"Voigt's sojourn through early and mid-century baseball catches the game's highest peaks and low ebbs. . . tells us much about ourselves and our society."
Description

Reviews

Bio

Subjects
Organized baseball from the establishment of the National Commission in 1903 to the period of national expansion in the 1950s and 1960s—buffeted by the winds of two world wars and a Great Depression—is chronicled here in colorful detail.
The glories of the Silver Age—Ty Cobb's record-setting, Ed Walsh's pitching innovations, Tinker-to-Evers-to-Chance fielding orchestration—might have been eclipsed by World War I and the 1919 "Black Sox" scandal. Instead, the Roaring Twenties boomed for baseball as well as the stock market. Baseball stars like Babe Ruth rivaled movie stars like Valentino, and baseball managers like Barrow, McGraw, and Mack were as famous as Hollywood directors like DeMille.
Professional baseball weathered the Depression and World War II, partly thanks to the introduction of night games. Electronic communication, first radio and then television, hurt the already crippled minor leagues but helped the majors. The electronic media also magnified the impact of stardom, both in its rewards and in its psychic costs. Branch Rickey was a step ahead of the civil rights movement when he signed Jackie Robinson in 1946, starting a quick influx of black and Hispanic players.
Desegregation brought some strains, as author Voigt recounts, but fewer than did the advent of successful unionization. Growing pains resulted from rapid league expansion into the burgeoning cities of the Far West and South.
Constantly accelerating social and economic change, characteristic of the United States in the 20th century, is mirrored in the history of its National Pastime.
"Voigt's sojourn through early and mid-century baseball catches the game's highest peaks and low ebbs. . . tells us much about ourselves and our society."
David Quentin Voigt has written five books on baseball history, plus American's Leisure Revolution on the sociology of leisure and sport. After earning an M.A. in American history at Columbia and a Ph.D. in social science at Syracuse, Dr. Voigt returned to his hometown of Reading, PA, as Professor of Sociology and Anthropology at Albright College.