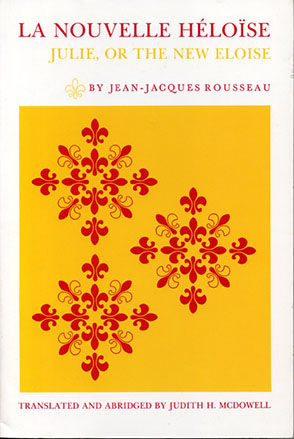 La Nouvelle Héloïse
Julie, or the New Eloise
Translated by Judith H. McDowell
Buy
La Nouvelle Héloïse
Julie, or the New Eloise
Translated by Judith H. McDowell
"McDowell's translation is literally faithful and direct but shows judicious idiomatic license in places where Rousseau's style or the requirements of the English phrase impose options, on the translator. . . . The average reader will thank McDowell for eliminating some of Rousseau's verbose, repetitive digressions. A perceptive introduction offers valuable insights on the novel's importance and Rousseau's style."
Description

Reviews

Bio

Subjects
This landmark of the romantic movement not only greatly influenced the taste and morality of the eighteenth-century reading public but was also one of the most seminal and widely read literary works of its day. Seventy-two editions of the novel in French appeared between 1761 and 1800, and though Voltaire called its success one of the infamies of the century. It won for Rousseau a place beside the author of Candide as a director of European thought. The plot of the novel is one familiar to all literature; that of a fallen and regenerated woman. The first three parts are devoted to the celebration of the passionate, mutual love of Saint-Preux and Julie; the last three praise Julie's return to virtue as a faithful wife and dedicated mother. Professor McDowell's translation is precise but natural and conveys to the reader the distinctive flavor of Rousseau's style.
"McDowell's translation is literally faithful and direct but shows judicious idiomatic license in places where Rousseau's style or the requirements of the English phrase impose options, on the translator. . . . The average reader will thank McDowell for eliminating some of Rousseau's verbose, repetitive digressions. A perceptive introduction offers valuable insights on the novel's importance and Rousseau's style."
Judith McDowell is Professor of English at the University of Texas at Arlington.