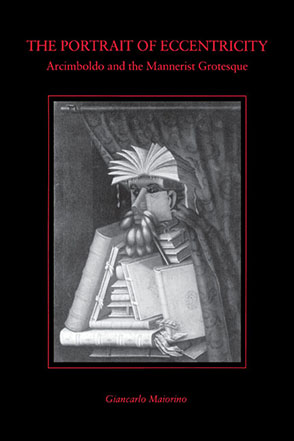 The Portrait of Eccentricity
Arcimboldo and the Mannerist Grotesque
Giancarlo Maiorino
Buy
The Portrait of Eccentricity
Arcimboldo and the Mannerist Grotesque
Giancarlo Maiorino
"In many ways, like its subject, marvelously idiosyncratic and playful, this book will make an important contribution to our understanding of the rhetoric of mannerism."
Description

Reviews

Bio

Subjects
In this companion to his
The Cornucopian Mind and the Baroque Unity of the Arts
, Maiorino examines the links between Renaissance and the modern versions of the Groteseque.
In this interdisciplinary study, the term "eccentricity" refers to styles of playful extravagance. Maiorino focuses on the rhetorical figures of excess employed by a critic-historian (Giorgio Vasari), on the willful artificiality of a painter (Giuseppe Arcimboldo), and on the programmatic and interpretive commentary of a theorist (Gregorio Comanini).
Maiorino draws subtle and persuasive connections between the images he discusses and the grotesque "face" of sixteenth-century poetics and rhetoric. He sets the mannerist and the grotesque against the philosophical seriousness of Renaissance humanism, interpreting them as a celebration of the ludic and fantastic possibilities of art itself. Aiming at pleasure rather than instruction, this art plays on the boundaries of the natural and the artificial, the credible and the impossible, taking delight in parody, excess, disjunction, and exaggeration.
"In many ways, like its subject, marvelously idiosyncratic and playful, this book will make an important contribution to our understanding of the rhetoric of mannerism."
"Ranging widely in truly breathtaking fashion over a body of diverse visual and verbal texts, both Renaissance and modern, Maiorino manages to say much that is new and perceptive about not only Arcimboldo—his are the best pages I have read on this artist—but also on the Grotesque itself and on the links between Renaissance and modern versions of Grotesque. Maiorino is unique in combining a thorough knowledge of the Renaissance texts with full awareness of recent literary theory; hence his work is likely to prove especially welcome to several audiences."
Giancarlo Maiorino is Professor of Comparative Literature at Indiana University. He is the author of Adam "New Born and perfect": The Renaissance Promise of Eternity (1987) and The Cornucopian Mind and the Baroque Unity of the Arts (Penn State, 1990).