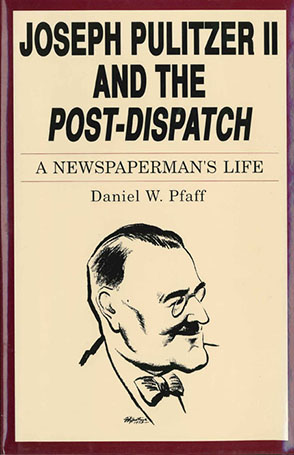 Joseph Pulitzer II and the "Post-Dispatch"
A Newspaperman's Life
Daniel W. Pfaff
Buy
Joseph Pulitzer II and the "Post-Dispatch"
A Newspaperman's Life
Daniel W. Pfaff
"This is an impeccably researched and well-written biography of a major figure in American Journalism. To the extent a Pulitzer tradition endures in American journalism, Pulitzer II is the one responsible."
Media

Description

Reviews

Bio

Subjects
Winner of the 1991 Frank Luther Mott-Kappa Tau Alpha Award for the Best Researched Book About the Media
This biography brings the song of "the" Joseph Pulitzer out from behind his colorful father's shadow and shows him to have been one of American's most important newspapermen, ranking with Adolph Ochs, William Allen White, and Robert R. McCormick.
Based on hitherto untapped archival sources, including a wealth of personal correspondence, this first biography of Joseph Pulitzer II tells the story of his drive and dedication to make the St. Louis Post-Dispatch one of the most effective liberal newspapers in the United States. Daniel Pfaff covers the seventy-year lifetime of the bearer of a famous name who succeeded in advancing the highest ideals of mainstream liberal journalism in his forty-three-year career as editor-publisher of the Post-Dispatch and head of the Pulitzer Publishing Company.
Unlike his colorful father (1847–1911), who is now chiefly remembered for establishing the Pulitzer Prizes at Columbia University and for creating a so-called new journalism that combined attention-getting sensationalism with public-service investigatory crusading at the turn of the century, the second Joseph Pulitzer (1885–1955) was a man of more even temperament and measured administrative style. Throughout his career he was unswervingly dedicated to his father's highest ideals. But he and his staff had new waters to navigate: two world wars, the Great Depression, the beginning of the civil rights movement, and involvement in what became the Vietnam War as well as the challenges of combating malfeasance in state and local political and business circles.
Operated by one of the ablest staffs in the country, the Post-Dispatch under Joseph Pulitzer II achieved national and international distinction by the late 1920s and maintained that stature throughout his career. In contrast, the New York World, which the first Joseph Pulitzer had intended to be his lasting monument had left in the care of his other two sons, foundered and, in 1931, failed. Had it not been for the journalistic acumen of Pulitzer's namesake son, in whom he had the least confidence, the Pulitzer presence in American journalism would have ended then. Instead, it is still thriving today.
While Joseph Pulitzer II's professional life and his newspaper's involvement in events of this era form the major part of this biography, Pfaff also chronicles his personal life—his sometimes stormy relationship with is father, his two marriages, and his social and recreational life. Thus the book succeeds in giving a well-rounded picture of the man and his times.
"This is an impeccably researched and well-written biography of a major figure in American Journalism. To the extent a Pulitzer tradition endures in American journalism, Pulitzer II is the one responsible."
Daniel W. Pfaff is Associate Professor of Journalism and Associate Dean in the School of Communications at The Pennsylvania State University.