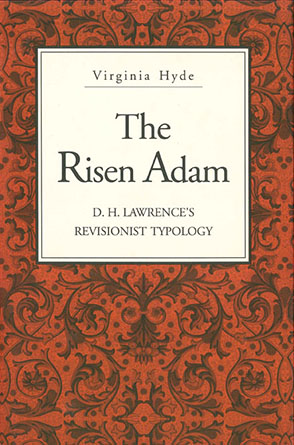 The Risen Adam
D. H. Lawrence's Revisionist Typology
Virginia Hyde
Buy
The Risen Adam
D. H. Lawrence's Revisionist Typology
Virginia Hyde
"The Risen Adam is an excellent, well-documented book on the influence of biblical types and patterns on Lawrence's works. Hyde shows convincingly that Lawrence was saturated with biblical typology and made extensive use of patriarchal types as well as the Christ figure in fashioning his central theme of resurrection."
Description

Reviews

Bio

Subjects
Showing Lawrence's familiarity with biblical typology from both written and visual sources, Virginia Hyde explores its many ironic and paradoxical versions in his works. She demonstrates his use of typological precursors of Christ, such as Adam and David, Moses and Aaron, and his development of a coherent cosmology centered on the cross and the Tree of Life. These features often take on radically revisionist meanings when informed by Lawrence's interests in theosophy and occult lore. Hyde fully recognized Lawrence's intensely dynamic style and examines the ways in which he works creatively with his models.
Hyde sheds new light on Lawrence's "leadership" views, linking them to patriarchal assumptions inherent in biblical typology. She utilizes manuscripts and sketches as well as his traditional works to show that a complex form of biblical symbolism affects both his form and content in unexpected ways. His symbols are often traceable to iconographic models with typological significance.
The Risen Adam includes pioneering treatments of the first Quetzalcoatl, the 1923 version of The Plumed Serpent, so different in part from the final novel as to form a separate creative effort. Hyde also offers provocative new readings of The Rainbow, Women in Love, Aaron's Rod, "The Border Line," The Plumed Serpent, David, The Man Who Died, Birds, Beasts and Flowers, and other works. The book is illustrated with artwork by Lawrence and with examples of the medieval and other iconography he knew.
"The Risen Adam is an excellent, well-documented book on the influence of biblical types and patterns on Lawrence's works. Hyde shows convincingly that Lawrence was saturated with biblical typology and made extensive use of patriarchal types as well as the Christ figure in fashioning his central theme of resurrection."
Virginia Hyde is Associate Professor of English at Washington State University, Pullman.