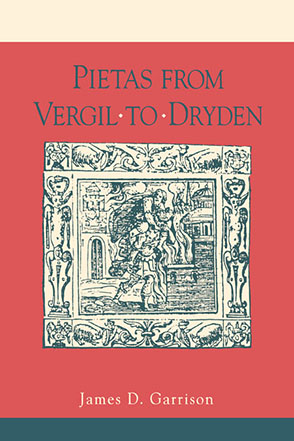 Pietas from Vergil to Dryden
James Garrison
Buy
Pietas from Vergil to Dryden
James Garrison
"The author has written an extraordinary history of the meanings and applications of a single word—pietà—and its cultural and Roman antiquity, early Christian Europe, the European middle ages, and sixteenth- and seventeenth-century Italy, France, and England. . . . This study is clearly a major contribution to comparative literature."
Description

Reviews

Bio

Subjects
For centuries the most revered poem in the Western literary canon, Vergil's Aeneid celebrates the Roman virtue of pietas. In the preface to his English translation of the poem, John Dryden attempts to explain all that this virtue includes: "Piety alone," he writes, "comprehends the whole Duty of Man towards the Gods, towards his Country, and towards his Relations." Dryden's definition belongs to a dialogue about meaning that reflects a history of contention over religious, political, and moral issues of enduring cultural significance. Because it is the site of antagonism between pagan and Christian, republican and imperialist, emperor and pope, Protestant and Catholic, pietas and its derivatives in the modern languages bring to literary works multiple contexts of ideological dispute. This book traces the history of the Vergilian ideal from classical Latin to neoclassical English literature. In the process of, it comparatively engages interpretation of a range of literary works diversely responsive to the Aeneid: from the histories and historical epics of the Silver Age, to the medieval mirrors for magistrates, to Renaissance adaptations of Aeneid 4 and 12, and finally to Dryden's complete translation.
"The author has written an extraordinary history of the meanings and applications of a single word—pietà—and its cultural and Roman antiquity, early Christian Europe, the European middle ages, and sixteenth- and seventeenth-century Italy, France, and England. . . . This study is clearly a major contribution to comparative literature."
"This is a remarkably good book. Garrison has identified an enormous topic never previously studied in a coherent way: the tradition of ideas and terms for pietas in the premodern West. . . . I found his discussions not only of Renaissance commentary and mythography but also of the medieval Investiture controversy original, lucid, and compelling."
James D. Garrison is Associate Professor of English at the University of Texas, Austin. He is the author of Dryden and the Tradition of Panegyric (1975).