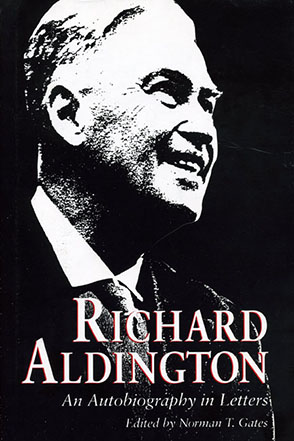 Richard Aldington
An Autobiography in Letters
Edited by Norman T. Gates
Buy
Richard Aldington
An Autobiography in Letters
Edited by Norman T. Gates
"Richard Aldington's letters are interesting, informative, and compulsively readable, from literary business to literary gossip, from war letters to love letters, and all equally passionate. Aldington was not only a significant poet, novelist, biographer, critic, and translator; he knew most English writers of any significance in his fifty active years (1912–1962) in literary life—Ezra Pound, Eliot, James Joyce, D. H. Lawrence, William Butler Yeats, Amy Lowell, H. D., Ford Madox Ford, Nancy Cunard, Norman Douglas, Aldous Huxley, Noel Coward, and C. P. Snow, to name a few."
Description

Reviews

Bio

Subjects
In the most comprehensive selection of his letters ever published, Norman Gates allows Richard Aldington to tell the story of his life in his own words. Unlike Aldington's autobiography,
Life for Life's Sake
, published twenty years before his death, these letters include those two important decades of his life and do not depend upon memory. Gates provides an introduction to each of the book's five sections, sketching Aldington's biography during that decade, but the reader may then listen to Aldington's own voice speaking through his letters.
Richard Aldington was married to the American poet H. D. and was a friend to many other writers and artists at the center of the Modern period. His comments on his colleagues and their work, his efforts to promote their literary fortunes, his passionate love for two wives and two mistresses, are all a part of these letters. So, too, are his experiences on the editorial staffs of the Egoist and the Criterion, which brought him to touch with European and American writers. For a clear picture of the literary world of this time, Aldington's letters are indispensable.
"Richard Aldington's letters are interesting, informative, and compulsively readable, from literary business to literary gossip, from war letters to love letters, and all equally passionate. Aldington was not only a significant poet, novelist, biographer, critic, and translator; he knew most English writers of any significance in his fifty active years (1912–1962) in literary life—Ezra Pound, Eliot, James Joyce, D. H. Lawrence, William Butler Yeats, Amy Lowell, H. D., Ford Madox Ford, Nancy Cunard, Norman Douglas, Aldous Huxley, Noel Coward, and C. P. Snow, to name a few."
Norman T. Gates is Professor Emeritus of English at Rider College and author of The Poetry of Richard Aldington: A Critical Evaluation and an Anthology of Uncollected Poems (Penn State, 1974) and A Checklist of the Letters of Richard Aldington (1977).