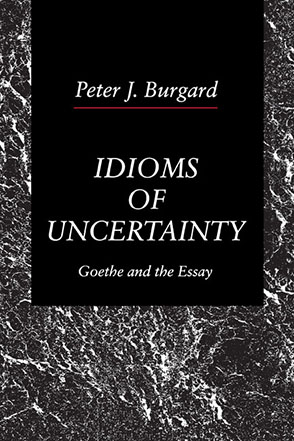 Idioms of Uncertainty
Goethe and the Essay
Peter J. Burgard
Buy
Idioms of Uncertainty
Goethe and the Essay
Peter J. Burgard
"This is a well-researched, engaging presented, and excellent investigation of various essays on art by conceivably the most important German writer, Johann Wolfgang von Goethe. Burgard is at his best in close textual analyses, showing how Goethe performs what he says, thereby enabling us to see Goethe's discourse on 'style' (a key term in this study) informing the author's 'style.' Burgard succeeds in proving the importance for the rest of Goethe's oeuvre of this relatively poorly investigated body of texts; he elevates the essays to the rank of sophistication that has been generally granted the plays, novels, and poetry. Idioms of Uncertainty may be favorably compared with Lacoue-Labarthe and Nancy's recently translated L'absolu littéraire; Burgard does for the essay what this pair of authors do for the genre of the fragment."
Description

Reviews

Bio

Subjects
Goethe's essays have been culled for their literary, aesthetic, and scientific content, by the textuality and their location at the nexus of genre and literary history have not received the critical attention they deserve. In
Idioms of Uncertainty
, Peter Burgard analyzes the rhetorical strategies, structure, and style of pivotal essays and relates them to the essay traditions as represented by Montaigne and Johnson. By formulating the critique of systematic philosophy inherent in the essays and by investigating their participation in the principal aesthetic dialogue of the age—the
Laocoön
debate, which spanned nearly half a century—Burgard situates them in the context of eighteenth-century critical discourse.
Furthermore, by disclosing the connection between the anti-systematic, dialogic impetus of Goethe's essayism and the theme of community in his literary works, Idioms of Uncertainty both draws out the broader social implications of the essay and shows how the analysis of Goethe's work in the genre can illuminate his entire oeuvre.
In the course of the study Burgard articulates a theory of the essay as a genre by drawing on twentieth-century theoretical perspectives for his exposition of Goethe's textual strategies: theories of the essay from Lukacs, Bense, and Adorno; the textual theories of Bakhtin, Kristeva, Barthes, and Derrida; and Rorty's notion of literary-philosophical conversation. Idioms of Uncertainty thus holds interest for those concerned with genre theory and literary theory in general; and through its challenging of clichés about German literature at the time it assumed international significance, the book will be useful not only for Goethe scholars but also for scholars of the eighteenth century across disciplines and national boundaries.
"This is a well-researched, engaging presented, and excellent investigation of various essays on art by conceivably the most important German writer, Johann Wolfgang von Goethe. Burgard is at his best in close textual analyses, showing how Goethe performs what he says, thereby enabling us to see Goethe's discourse on 'style' (a key term in this study) informing the author's 'style.' Burgard succeeds in proving the importance for the rest of Goethe's oeuvre of this relatively poorly investigated body of texts; he elevates the essays to the rank of sophistication that has been generally granted the plays, novels, and poetry. Idioms of Uncertainty may be favorably compared with Lacoue-Labarthe and Nancy's recently translated L'absolu littéraire; Burgard does for the essay what this pair of authors do for the genre of the fragment."
Peter J. Burgard is Assistant Professor of German at Harvard University.