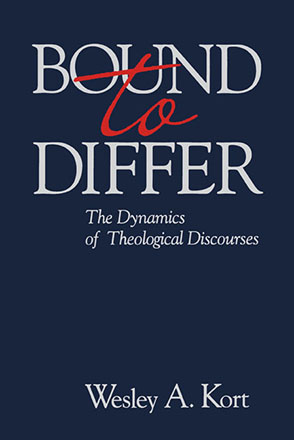 Bound to Differ
The Dynamics of Theological Discourses
Wesley A. Kort
Buy
Bound to Differ
The Dynamics of Theological Discourses
Wesley A. Kort
"As an admirer of Professor Kort's other well-known, indeed groundbreaking works on biblical interpretations and literary theory, I was partly but still not fully prepared for the originality of his interpretation of theological positions in terms of discourse analysis and rhetorical analysis. Such analyses are just beginning to be used in contemporary theology. This book—by its originality, care, and quiet erudition—will prove a major contribution to that new theological development."
Description

Reviews

Bio

Subjects
In this analysis of theological conflict, Wesley Kort treats theologies as discourses that generate power and significance by their relations to and differences from one another. He identifies the traditional or putative claims of theological power and meaning—sources, referents, and patterns or structures—as distractions from or even concealments of the discursive situation in which theologies arise.
Kort first describes the dynamics of difference and conflicts constituted by theologies and the importance of power for opposing theologies. He provides a model that demonstrates why differences and conflicts, rather than occasional or peripheral effects of theology, are required as central causes. He then applies the analysis and model in the task of reading theologies of more than a dozen modern and contemporary figures.
In his conclusion, Kort returns to the cultural situation he sketched at the beginning, one that creates the conditions for the study and that is often called "postmodern." Kort calls it "a culture of scripture and belief," and he discusses prospects for theology in a culture not characterized by the fact and certainty. "The culture of scripture and belief" calls for theologies that are both forceful and vulnerable to critique.
"As an admirer of Professor Kort's other well-known, indeed groundbreaking works on biblical interpretations and literary theory, I was partly but still not fully prepared for the originality of his interpretation of theological positions in terms of discourse analysis and rhetorical analysis. Such analyses are just beginning to be used in contemporary theology. This book—by its originality, care, and quiet erudition—will prove a major contribution to that new theological development."
Wesley A. Kort is Professor in the Department of Religion and the Graduate Faculty of Religion at Duke University and author of several books, including Story, Text, and Scripture: Literary Interests in Biblical Narrative (Penn State, 1988).