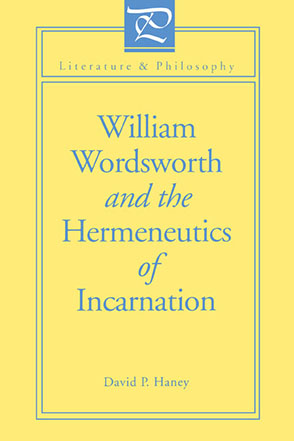 William Wordsworth and the Hermeneutics of Incarnation
David Haney
Buy
William Wordsworth and the Hermeneutics of Incarnation
David Haney
"This is an important contribution to romanticism and literary theory."
Description

Reviews

Bio

Subjects
Recent critics view Wordsworth's incarnational rhetoric as the expression of an unfulfilled desire for representational adequacy. David Haney, however, argues that Wordsworth's interpretation of the Christian concept of incarnation engages historical contingency and mortality by emphasizing the translation of spirit into mortal, historical humanity. The incarnational analogy also provides an important locus for Romantic thought about the tension between the inherited Enlightenment epistemology based on instrumental reason in the service of representation and the desire for an alternative that would restore an ethical dimension to thought. Haney concentrates not only on familiar Wordsworthian texts such as
The Prelude
but also on less frequently read texts such as
The Excursion
.
Beyond revising earlier interpretations of Wordsworth, Haney presents an alternative to the deconstructive and new-historicist interpretive models that have dominated recent criticism and explores the relationship between theoretical and literary meaning. Drawing on theoreticians such as Hans Gadamer, Charles Taylor, Emmanuel Levinas, and Stanley Cavell, Haney shows how Wordsworth's incarnational rhetoric cuts across the boundaries of poetry, philosophy, and theology, faces up to the violence and historical contingency that Romanticism is often accused of evading, and also develops out of that chaos a model for the production of meaning. William Wordsworth and the Hermeneutics of Incarnation thus contributes to the dialogue between literature and philosophy, demonstrating the possibility of fruitful interaction between the competing hermeneutic and deconstructive heirs of Heidegger and recovering the depth and complexity of Wordsworth's incarnational thought in its philosophical, theological, and literary context.
"This is an important contribution to romanticism and literary theory."
David P. Haney is Associate Professor of English at Auburn University.