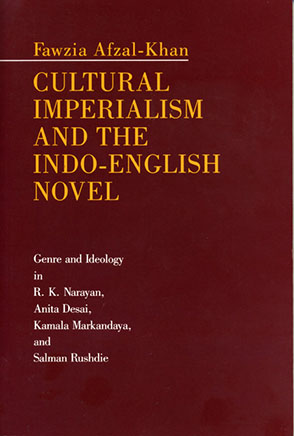 Cultural Imperialism and the Indo-English Novel
Genre and Ideology in R. K. Narayan, Anita Desai, Kamala Markandaya, and Salman Rushdie
Fawzia Afzal-Khan
Buy
Cultural Imperialism and the Indo-English Novel
Genre and Ideology in R. K. Narayan, Anita Desai, Kamala Markandaya, and Salman Rushdie
Fawzia Afzal-Khan
"Fawzia Afzal-Khan's excellent book could stand as a reply to those hostile critics who today attack 'multiculturalism' for reductively politicizing literature. In her trenchant discussion, Afzal-Khan shows just how complex the politics of 'liberation' can be for colonial and postcolonial novelists."
Description

Reviews

Bio

Subjects
Cultural Imperialism and the Indo-English Novel focuses on the novels of R. K. Narayan, Anita Desai, Kamala Markandaya, and Salman Rushdie and explores the tension in these novels between ideology and the generic fictive strategies that shape ideology or are shaped by it. Fawzia Afzal-Khan raises the important question of how much the usage of certain ideological strategies actually helps the ex-colonized writer deal effectively with postcolonial and postindependence trauma and whether or not the choice of a particular genre or mode employed by a writer presupposes the extent to which that writer will be successful in challenging the ideological strategies of "containment" perpetuated by most Western "orientalist" texts and writers. She argues that the formal or generic choices of the four writers studied here reveal that they are using genre as an ideological "strategy of liberation" to help free their peoples and cultures from the hegemonic strategies of "containment" imposed upon them. She concludes that the works studied here constitute an ideological rebuttal of Western writers' denigrating "containment" of non-Western cultures. She also notes that self-criticism, as implied in Rushdie's works, is not be confused with self-hatred, a theme found in Naipaul's work.
"Fawzia Afzal-Khan's excellent book could stand as a reply to those hostile critics who today attack 'multiculturalism' for reductively politicizing literature. In her trenchant discussion, Afzal-Khan shows just how complex the politics of 'liberation' can be for colonial and postcolonial novelists."
"This is a provocative piece of scholarship, and it engages an intriguing aspect of postcolonial writing."
"Afzal-Khan's study is a major new contribution to the related fields of Indian writing in English and postcolonial literatures. Focused primarily on four Indian novelists, its arguments and conclusions are of vital importance to our understanding of the many new literatures from the former British colonies. Through her judicious use of the theoretical constructs of Frantz Fanon, Fredric Jameson, Edward Said, and others, Afzal-Khan has produced a fresh and compelling interpretation of the Indian-English novel."
Fawzia Afzal-Khan is Associate Professor of English at Montclair State College.