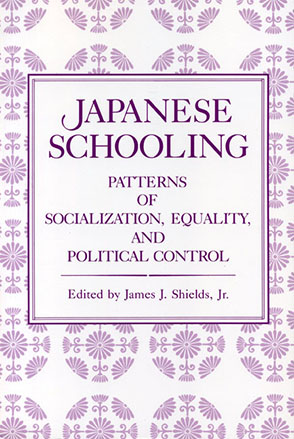 Japanese Schooling
Patterns of Socialization, Equality, and Political Control
Edited by James J. Shields
Buy
Japanese Schooling
Patterns of Socialization, Equality, and Political Control
Edited by James J. Shields
"One of the best collections of important considerations and useful material on Japanese education in recent years."
Description

Reviews

Bio

Subjects
Japanese Schooling
is organized around important crosspoints for understanding the historic roots and contemporary features of Japanese education. These include (1) socialization for discipline at home and in school; (2) the impact of university examinations on educational equality and moral development; and (3) centralized control and national identity. Written by leading American and Japanese scholars,
Japanese Schooling
is uniquely informative and comprehensive, with wide-ranging and critical analyses of sensitive issues and traditional educational questions. Among the topics that highlight both strengths and weaknesses are: nursery schooling, pupil violence in junior high schools, the reasons for high achievement levels in mathematics, the textbook controversy and teacher unionism, the role of large class size in teaching cooperative behavior, gender issues, and special education. As one reviewer said, "The book has no equal among recently published works which in comparison avoid sharp analysis and are narrowly focused."
Another feature is the bibliography of more than 200 English-language sources on Japanese education published since 1972. It constitutes probably the most complete bibliographic research base currently available for those interesting in studying Japanese education. Overall, Japanese Schooling shows every promise of taking a place alongside Herbert Passin's Society and Education in Japan, published in 1965 and long-considered the classic reference for understanding the interplay between contemporary educational issues and the permanent patterns of Japanese culture.
"One of the best collections of important considerations and useful material on Japanese education in recent years."
"Reflecting some of the best recent scholarship on Japanese education by both American and Japanese researchers, this volume provides a fairly comprehensive overview of developments in Japanese education."
"[This] collection of papers provides rich and abundant information on various facets of Japanese education. This is surely in part due to the editorial skills of a highly respected expert on Japanese society and education. This book offers a great deal of useful knowledge for non-Japanese students, teachers, and scholars, and for their Japanese counterparts as well. . . . I am very pleased that this excellent cooperation between U. S. and Japanese educators has resulted in a strong collection of essays that will help to inform persons interested in Japanese education and society."
James J. Shields, Jr., is Professor and Chair of Social and Psychological Foundations at the City College, the City University of New York, and author of several books.