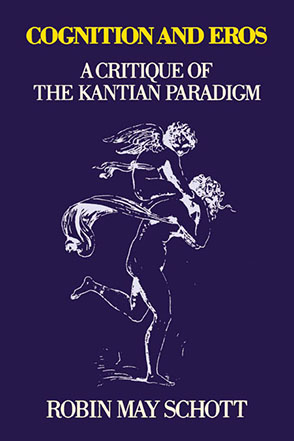 Cognition and Eros
A Critique of the Kantian Paradigm
Robin Schott
Buy
Cognition and Eros
A Critique of the Kantian Paradigm
Robin Schott
"In her interesting and provocative book, Robin May Schott focuses our attention on two central themes emerging from the context of an examination of sexual relations in which philosophy has operated. First, she asks the reader to wonder about the philosophical significance of the historical absence of women from philosophy, and, second, to consider the social implications of a philosophy constructed on this basis. Her conclusions are to see the suppression of the erotic theme of human existence from philosophical contemplation to be an expression of a philosophical response to morality; women have been viewed not only in terms of their life-giving sexuality, but also to embody the threat of death as well."
Description

Reviews

Bio

Subjects
An impassioned critique of the Kantain paradigm of objectivity, "pure reason," that reveals the roots of sexism with the Western philosophical tradition.
"In her interesting and provocative book, Robin May Schott focuses our attention on two central themes emerging from the context of an examination of sexual relations in which philosophy has operated. First, she asks the reader to wonder about the philosophical significance of the historical absence of women from philosophy, and, second, to consider the social implications of a philosophy constructed on this basis. Her conclusions are to see the suppression of the erotic theme of human existence from philosophical contemplation to be an expression of a philosophical response to morality; women have been viewed not only in terms of their life-giving sexuality, but also to embody the threat of death as well."
"Schott's book stands as a good introduction to sexism in Western thought."
"This fascinating book is an important contribution to the expanding literature that seeks to expose the ideological, often misogynist, biases that pervade the Western philosophical tradition."
"A provocative inquiry into the role of intellectual asceticism in Western philosophy and its effects on the status and treatment of women. Schott's aim, in my view, is not so much to undercut or jeopardize philosophy as to invite further reflection on unexamined premises of philosophical thought."
"A masterpiece of scholarship and critical interpretation that questions some of the most fundamental assumptions of the Kantian paradigm. Her avowedly feminist approach is bolstered by the instruments of social history and puts Kant's philosophy in a fresh and provocative perspective. A bold original work, it will be a landmark in Kant scholarship."
Robin May Schott is Associate Professor of Philosophy at the University of Louisville.