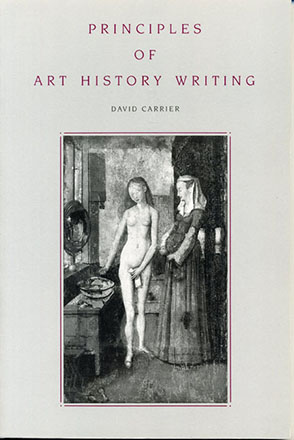 Principles of Art History Writing
David Carrier
Buy
Principles of Art History Writing
David Carrier
"Art history has only lately come to the recognition that it is part of its own subject, and that there is an art history of art history to be written, and a theory of art history to be formulated. The controversy over the 'New Art History' is a primitive acknowledgment of this truth, even if the terms chosen remain those of the mid-nineteenth century. David Carrier, a philosopher, has thus raised the level of discussion by an immense distance, providing theoretical analyses and case examples, commendably sophisticated. It is an immense contribution to and clarification of art, of history, and of art history as well. All further discussion must now begin with him."
Description

Reviews

Bio

Subjects
Principles of Art History Writing traces the changes in the way in which writers about art represent the same works. These differ in such deep ways as to raise the question of whether those at the beginning of the process even saw the same things as those at the end did. Carrier uses four case studies to identify and explain changing styles of restorations and the history of interpretations of selected works by Piero, Caravaggio, and van Eyck.
"Art history has only lately come to the recognition that it is part of its own subject, and that there is an art history of art history to be written, and a theory of art history to be formulated. The controversy over the 'New Art History' is a primitive acknowledgment of this truth, even if the terms chosen remain those of the mid-nineteenth century. David Carrier, a philosopher, has thus raised the level of discussion by an immense distance, providing theoretical analyses and case examples, commendably sophisticated. It is an immense contribution to and clarification of art, of history, and of art history as well. All further discussion must now begin with him."
David Carrier is Professor of Philosophy at Carnegie Mellon University and author of Artwriting (1987) and Poussin's Paintings (Penn State, 1992).