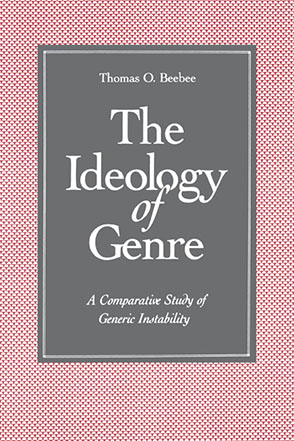 The Ideology of Genre
A Comparative Study of Generic Instability
Thomas O. Beebee
Buy
The Ideology of Genre
A Comparative Study of Generic Instability
Thomas O. Beebee
"This is a learned and lively book. It is a scholarly essay that makes for absorbing as well as highly enjoyable reading; it functions as an initiation to modern genre theory while making an important move within that field; it deals with culture high and popular, and a range of texts from the early modern era to the contemporary period; and its writing runs a generic gambit of its own, now theoretical exposition, now ingenious criticism, now theoretical fiction."
Description

Reviews

Bio

Subjects
In a series of comparative essays on a range of texts embracing both high and popular culture from the early modern era to the contemporary period, The Ideology of Genre counters both formalists and advocates of the "death of genre," arguing instead for the inevitability of genre as discursive mediation. At the same time, Beebee demonstrates that genres are inherently unstable because they are produced intertextually, by a system of differences without positive terms. In short, genre is the way texts get used. To deny that genres exist is to deny, in a sense, the possibility of reading; if genres exist, on the other hand, then they exist not as essences but as differences, and thus those places within and between texts where genres "collide" reveal the connections between generic status, interpretive strategy, ideology, and the use-value of language.
"This is a learned and lively book. It is a scholarly essay that makes for absorbing as well as highly enjoyable reading; it functions as an initiation to modern genre theory while making an important move within that field; it deals with culture high and popular, and a range of texts from the early modern era to the contemporary period; and its writing runs a generic gambit of its own, now theoretical exposition, now ingenious criticism, now theoretical fiction."
"Besides being impressed with Beebee's overall contribution to genre theory, I am also extremely impressed with his individual chapters, with his comparative methodology in practice, as he reads texts and genres against each other. These readings expose generic instability in very provocative ways. Each chapter, each pair of works struck me as exquisitely performed. This is a work that will appeal to theorists of genre but also to generalists, and especially to those of us beginning to work in cultural studies, for Beebee takes popular culture as seriously as elite, canonical culture."
Thomas O. Beebee is Associate Professor of Comparative Literature and German at the Pennsylvania State University and author of "Clarissa" on the Continent: Translation and Seduction (Penn State, 1990) and co-translator (with Qing-yun Wu) of The Remote Garden by Bai Hua (1994).