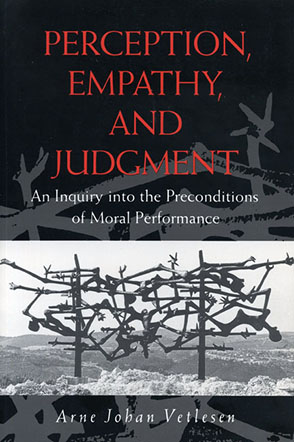 Perception, Empathy, and Judgment
An Inquiry into the Preconditions of Moral Performance
Arne Johan Vetlesen
Buy
Perception, Empathy, and Judgment
An Inquiry into the Preconditions of Moral Performance
Arne Johan Vetlesen
"Vetlesen's book is a valuable contribution to ethical thought. The book is an extended argument for the role of empathy in moral perception. What makes Vetlesen's approach unusual is the profitable way in which he blends the insights of both traditional and contemporary, continental and Anglo-American thinkers. This is the sort of ethical thinking that builds bridges."
Description

Reviews

Bio

Subjects
In Perception, Empathy, and Judgment
Arne Johan Vetlesen focuses on the indispensable role of emotion, especially the faculty of empathy, in morality. He contends that moral conduct is severely threatened once empathy is prevented from taking part in an interplay with cognitive faculties (such as abstraction or imagination) in acts of moral perception and judgment. Drawing on developmental psychology, especially British "object relations" theory, to illuminate the nature and functioning of empathy, Vetlesen shows how moral performance is constituted by a sequence involving perception, judgment, and action, with an interplay between the agent's emotional (empathic) and cognitive faculties occurring at each stage.
In the powerful tradition from Kant to present-day theorists such as Kohlberg, Rawls, and Habermas, reason is privileged over feeling and judgment over perception, in such a way that basic philosophical questions remain unasked. Vetlesen focuses our attention on these questions and challenges the long-standing assertion that emotions are damaging to moral response. In the final chapter he relates his argument to recent feminist critiques that have also castigated moral theorists in the Kantian tradition for their refusal to recognize a role for emotion in morality.
While the book's argument is philosophical, its method and scope are interdisciplinary. In addition to critiques of such philosophers as Arendt, MacIntyre, and Habermas, it contains discussions of specific historical, ideological, and sociological factors that may cause "numbing"—selective or broad-ranging, pathological insensitivity—in humans. The Nazis' mass killing of Jews is studied to illuminate these and other relevant empirical aspects of large-scale immoral action.
"Vetlesen's book is a valuable contribution to ethical thought. The book is an extended argument for the role of empathy in moral perception. What makes Vetlesen's approach unusual is the profitable way in which he blends the insights of both traditional and contemporary, continental and Anglo-American thinkers. This is the sort of ethical thinking that builds bridges."
Arne Johan Vetlesen, whose dissertation was supervised by Jürgen Habermas, is Research Fellow in Philosophy at the University of Oslo.