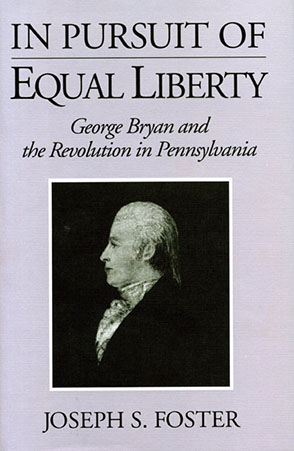 In Pursuit of Equal Liberty
George Bryan and the Revolution in Pennsylvania
Joseph S. Foster
BUY
In Pursuit of Equal Liberty
George Bryan and the Revolution in Pennsylvania
Joseph S. Foster
"Joseph Foster has produced the most thorough canvas of George Bryan, a major Revolutionary figure in Pennsylvania, and his activities that we are ever likely to have. He clearly shows Bryan's importance in both colonial and Revolutionary events and nicely elucidates his central place in Pennsylvania's Constitutionalist Party."
Description

Reviews

Bio

Subjects
George Bryan's life spanned nearly forty years of Pennsylvania history, embracing the colonial, revolutionary, and postwar periods, an era that witnessed the transformation of the colony into a state and into one of the leading centers of the discussion of liberty and republicanism. Bryan's story is truly that of the American Revolution. Active in the resistance movement, he emerged out of the ranks of revolutionary politics to become one of the leading provincial and national figures during the war and into the postwar period.
Bryan, a young, middle-class, Irish immigrant, arrived in Philadelphia in 1752 to pursue a career as a merchant. From 1756 to 1771 his mercantile business prospered, but a volatile market forced him into bankruptcy. At that point Bryan became heavily involved in the Presbyterian Church, which was embroiled in the controversy between Old Side and New Side factions in the wake of the Great Awakening. In this way he became involved in Philadelphia politics, as the Presbyterians were a viable political faction. The height of his public career came during the Revolution when he served as President of the Commonwealth in 1778 and, thereafter, when he headed the Constitutionalist Party.
Not since Burton Konkle's 1922 biography has anyone attempted to restore Bryan to his rightful place in American history. By working with many collections of primary source material beyond the extant Bryan papers, Joseph Foster has not only created the most complete portrait of Bryan possible; he has also placed Bryan in his historical context.
"Joseph Foster has produced the most thorough canvas of George Bryan, a major Revolutionary figure in Pennsylvania, and his activities that we are ever likely to have. He clearly shows Bryan's importance in both colonial and Revolutionary events and nicely elucidates his central place in Pennsylvania's Constitutionalist Party."
Joseph S. Foster is an editor of the Biographical Dictionary of Early Pennsylvania Legislators project at Temple University.