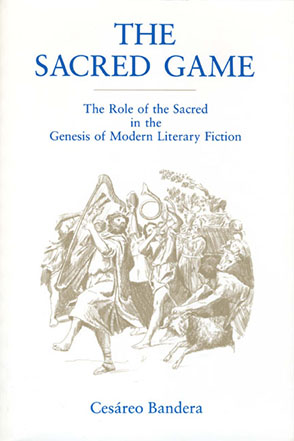 The Sacred Game
The Role of the Sacred in the Genesis of Modern Literary Fiction
Cesáreo Bandera
BUY
The Sacred Game
The Role of the Sacred in the Genesis of Modern Literary Fiction
Cesáreo Bandera
"Bandera's impressive and erudite book is situated within the broad research program opened up by René Girard's anthropological insights. Working against the background of some of Girard's basic assumptions about violence, victimization, and the sacred, Bandera takes up some of the outstanding problems and issues that have been left unresolved by Girard himself and by the various scholars who have been inspired by different facets of Girard's work."
Description

Reviews

Bio

Subjects
The first full-fledged application of the sacrificial model to fiction from the Middle Ages to the modern era.
Cesáreo Bandera contends that we badly misjudge our own historical situation if we believe that the sacred is something that can be left behind or ignored as utterly irrelevant. The Sacred Game argues that the sacred is all around us and its most characteristic manifestation is precisely the "allergic" reaction and subsequent barrier it produces in our "secular" sensitivity as soon as we come in contact with it.
The Sacred Game examines the transition from the Middle Ages to the modern era from a Girardian perspective. It brings light to the weakening of the traditional association of literature with the sacred and its far-reaching consequences, and it studies the logic that governs the emergence of the most characteristic forms of modern fiction, the modern novel and the modern theater. Bandera emphasizes the unprecedented character of what happened to literary fiction during this transition. While the historical facts of the period are well known, Bandera presents them in a new light. The result is a new theory of literary fiction that challenges certain well-established approaches, in particular the nineteenth-century liberal romantic and Marxist approaches.
"Bandera's impressive and erudite book is situated within the broad research program opened up by René Girard's anthropological insights. Working against the background of some of Girard's basic assumptions about violence, victimization, and the sacred, Bandera takes up some of the outstanding problems and issues that have been left unresolved by Girard himself and by the various scholars who have been inspired by different facets of Girard's work."
"This is a superb book, one of the best I've read that deal with fundamental issues in Western culture and literature. Its subtitle indicates a thesis concerning the role of the sacred in modern literary fiction, but as large as that topic is, I think the implications of the book go far beyond that."
Cesáreo Bandera is University Distinguished Professor of Romance Languages at the University of North Carolina and author of Mímesis conflictiva: Ficción literaria y violencia en Cervantes y Calderón (1975).