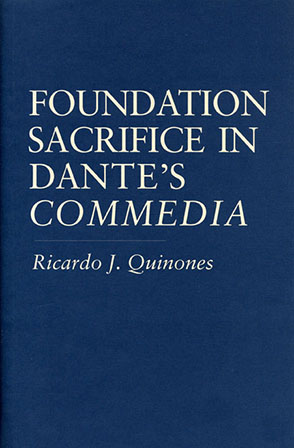 Foundation Sacrifice in Dante's "Commedia"
Ricardo J. Quinones
Buy
Foundation Sacrifice in Dante's "Commedia"
Ricardo J. Quinones
"Ricardo Quinones appears here to greatest advantage in the two related roles he is most noted for in Dante scholarship: as the rediscoverer of Dante's Purgatorio and as the introducer of anthropological concepts and theory into Dante studies. This new study is truly the crowning achievement of Quinones's decades-long research. Foundation Sacrifice is bound to be the most significant contribution of the year to Dante studies."
Description

Reviews

Bio

Subjects
Foundation Sacrifice in Dante's "Commedia" is the first book to take an anthropological approach to the Divine Comedy, applying it to a previously unexplored dimension of Dante's great poem. Ricardo Quinones examines foundation sacrifice—the death of another that has become a parable for existence—as a unifying theme that connects the three parts of the poem. In the process, Quinones gives new life to the Purgatorio, treating it not only as a sequel but actually as a dramatic response—in revealing detail—to the Inferno. His motif allows him to reintegrate the Paradiso into the poem as a whole, thus restoring it as a poetic event to critical appreciation.
"Ricardo Quinones appears here to greatest advantage in the two related roles he is most noted for in Dante scholarship: as the rediscoverer of Dante's Purgatorio and as the introducer of anthropological concepts and theory into Dante studies. This new study is truly the crowning achievement of Quinones's decades-long research. Foundation Sacrifice is bound to be the most significant contribution of the year to Dante studies."
"Ricardo Quinones has written an engaging, provocative, and insightful study of the role of foundation sacrifice in Dante's Divine Comedy. Indeed, this act or event functions as a leitmotif and joins the three canticles of Dante's poem together in a comparative/contrastive relationship that is spectacular, dynamic, dramatic, and informative. This important dimension of the poem is perhaps one of the very few that has not yet been studied in any systematic and inclusive manner. Quinones provides us with a rich and valuable reading that allows us to grasp the wonderful web of allusions and references that Dante has woven into his textual fabric. We are impressed by the aptness of Quinones's commentary, by his excellent, finely tuned critical sensitivity to the text, and by the magisterial ease with which he moves from topic to topic, never losing sight of the goal."
Ricardo J. Quinones is Director of the Gould Center for Humanistic Studies and Josephine Olp Weeks Professor of Comparative Literature at Claremont McKenna College. He is the author of several books, most recently The Changes of Cain (1991).