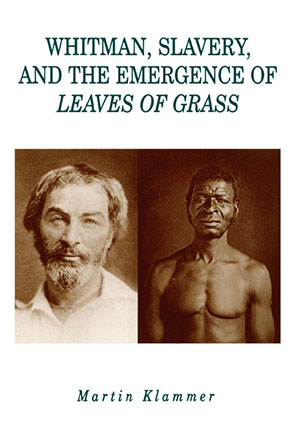 Whitman, Slavery, and the Emergence of Leaves of Grass
Martin Klammer
Buy
Whitman, Slavery, and the Emergence of Leaves of Grass
Martin Klammer
"The originality of Klammer's work lies in his bold argument that Whitman's actual emergence as a great, original, innovative poet owed a great deal to his political thinking about the slavery question. This book argues convincingly that Whitman's attitude toward African Americans passed through several phases that were closely related to the key political developments of the day relating to slavery. I have no doubt that it will mark a new phase in our understanding of Whitman's attitudes towards African Americans."
Description

Reviews

Bio

Subjects
Although the significance of Walt Whitman's thinking about African Americans and slavery to his poetry has been largely ignored by Whitman scholars, Martin Klammer argues that Leaves of Grass is a major text dealing with race relations in the mid-nineteenth century. Through a close historical analysis, Klammer reveals how the evolution of Whitman's attitudes—from pro-slavery to "Free Soilism" to a deep sympathy for slaves—parallels and inspires his emergence as a poet from the beginning of his career through the 1855 edition. The issue of slavery continually influenced Whitman's work, culminating in 1854 when public reaction to two national developments on the slavery question—the passage of the Kansas-Nebraska Act and the case of the fugitive slave Anthony Burns—suddenly created an audience more receptive to Whitman's views and compelled him to revise and publish the poems known as Leaves of Grass. At the heart of these poems is a radically new and sympathetic view of African Americans and of their significance to Whitman's vision of a multiracial, egalitarian society. While previous critics have described Whitman's puzzling, seemingly contradictory views on slavery, no other study has so thoroughly investigated Whitman and the question of slavery, nor understood the importance of slavery to Whitman's development as a poet.
"The originality of Klammer's work lies in his bold argument that Whitman's actual emergence as a great, original, innovative poet owed a great deal to his political thinking about the slavery question. This book argues convincingly that Whitman's attitude toward African Americans passed through several phases that were closely related to the key political developments of the day relating to slavery. I have no doubt that it will mark a new phase in our understanding of Whitman's attitudes towards African Americans."
"Martin Klammer has produced an excellent study of a central problem in Whitman criticism. No one has shown more clearly (indeed eloquently) the progressive development of Whitman's ideas about slavery, with special emphasis on the connection between nineteenth-century political and social history and the evolution of Leaves of Grass. Blending history, biography, and literary criticism, Klammer's analytical narrative displays scrupulous scholarship, but is never dry."
Martin Klammer is Assistant Professor of English and Africana Studies at Luther College.