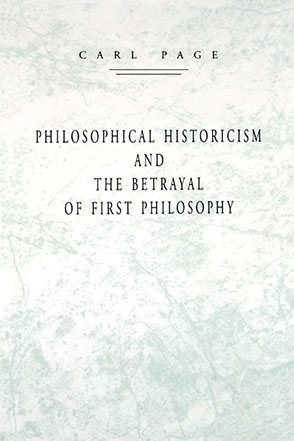 Philosophical Historicism and the Betrayal of First Philosophy
Carl Page
Buy
Philosophical Historicism and the Betrayal of First Philosophy
Carl Page
"Carl Page has written a thoughtful book about contemporary forms of historicism. Assumptions about historical meaning and the historicity of social practices have become common in much late-twentieth-century work in the social sciences and the humanities, and this 'first philosophical' treatment is as readable, provocative, and intelligent an account of the deepest issues as any published in recent years."
Description

Reviews

Bio

Subjects
The recent emergence, among philosophers, of the view that the activity of human reason in all its possible modes must also be historicized, including the activity of philosophizing itself, may be found in writers as diverse as Hans-Georg Gadamer, Richard Rorty, Michel Foucault, and Alasdair MacIntyre. This contemporary view of human reason contrasts with the traditional commitments of "First Philosophy," Aristotle's name for the knowledge of things through their ultimate causes and principles. This book challenges the prevailing historicist orthodoxies about the nature of reason and philosophy and offers the first comprehensive analysis and critique of historicism in its current philosophical form.
Can philosophical historicism reasonably justify the interpretation of human reason on which its own objections to First Philosophy are based? While Carl Page ultimately concludes that it cannot, he also seeks to rehabilitate historicism's motivating insights by showing how they derive from questions Hegel and Heidegger raised about reason's relation to history.
"Carl Page has written a thoughtful book about contemporary forms of historicism. Assumptions about historical meaning and the historicity of social practices have become common in much late-twentieth-century work in the social sciences and the humanities, and this 'first philosophical' treatment is as readable, provocative, and intelligent an account of the deepest issues as any published in recent years."
Carl Page was formerly on the philosophy faculty at Emory University and is Tutor at St. John's College, Annapolis, Md.