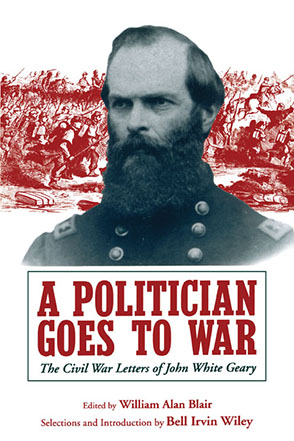 A Politician Goes to War
The Civil War Letters of John White Geary
Edited by William A. Blair
Buy
A Politician Goes to War
The Civil War Letters of John White Geary
Edited by William A. Blair
"The letters of John White Geary constitute a significant addition to the printed primary literature on the Civil War. Anyone interested in the high command of the Army of the Potomac, Sherman's March to the Sea and campaigns through the Carolinas, or politicians in Union military service will turn to these letters with profit."
Media

Description

Reviews

Bio

Subjects
History Book Club Alternate Selection
This last known work of noted historian Bell Irvin Wiley reveals the private mind of John White Geary, a Union general from Pennsylvania, through his Civil War letters to his wife, Mary. Wiley had selected these roughly 200 letters for publication, but the unfinished manuscript lay undiscovered for twelve years after the historian's death. The letters provide a rare glimpse of the two main theaters of war through the eyes of a general officer. Geary saw action at Cedar Mountain and Gettysburg in the Virginia theater and in the major campaigns in the west—from lifting the siege at Chattanooga to marching with William T. Sherman through Georgia and the Carolinas.
The fascination Geary's letters held for Wiley, the quintessential scholar of the common person, is clear: the letters of an uncommon man reveal ordinary concerns about children, money, home, and religion that linked Geary to many on both sides of the war. Geary's letters also show another side of the officer, that of the consummate politician who knew that military service provided capital for future political campaigns. Through intense self-promotion, he had fashioned a reputation that served him well in gaining respected political posts both before and after the war: he fought in the Mexican War and served as the first mayor of San Francisco and as territorial governor of Kansas during the period known as "Bloody Kansas," in addition to winning two terms as governor of Pennsylvania after the war. Ultimately, the letters of John White Geary show how a political general plied his trade. They reveal the complexities of any historical figure, for Geary had both the admirable qualities of loyalty to the Union and the less attractive need to exaggerate his abilities to enhance his career.
"The letters of John White Geary constitute a significant addition to the printed primary literature on the Civil War. Anyone interested in the high command of the Army of the Potomac, Sherman's March to the Sea and campaigns through the Carolinas, or politicians in Union military service will turn to these letters with profit."
William Alan Blair is an Assistant Professor of U.S. History at the University of North Carolina at Greensboro. Bell Irvin Wiley's classic books include The Life of Billy Yank and The Life of Johnny Reb.