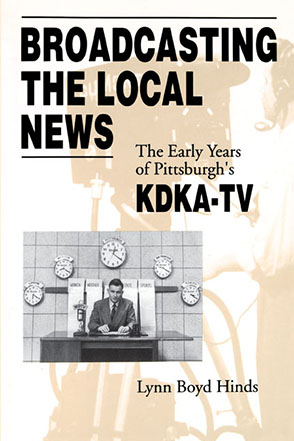 Broadcasting the Local News
The Early Years of Pittsburgh's KDKA-TV
Lynn Boyd Hinds
BUY
Broadcasting the Local News
The Early Years of Pittsburgh's KDKA-TV
Lynn Boyd Hinds
"The book provides an excellent foundation of history and understanding for broadcast news professionals, broadcast news students, and those interested in the early days of communications. It is well researched, well written, and well structured."
Description

Reviews

Bio

Sample Chapters

Subjects
Every day millions of Americans tune in to a newscast on one of their local television stations to learn what is new in their community. In fact, more people watch local news than network news, but surprisingly little is known about the early days of television when stations across the country searched for ways to do news in the new medium. In
Broadcasting the Local News
, Lynn Boyd Hinds, a former Pittsburgh broadcaster, introduces us to one station—KDKA-TV—which literally invented television news in Pittsburgh.
Television came to Pittsburgh in 1949 when WDTV (the forerunner of KDKA-TV) went on the air. Whereas many television stations in the United States began reading news on the air only to comply with FCC requirements, WDTV treated news seriously from day one with its first regular program, a local news show called "Pitt Parade." Today KDKA is still highly regarded among journalists for its news programming.
Although television news may seem familiar to us, it was anything but familiar to the men and women of early television. Hinds shows how they borrowed liberally from newspapers, radio, motion picture newsreels, theater, and even magazines to create, by trial and error, suitable ways to present the news. Rather than instantly replacing radio, television news moved slowly from the "rip and read" radio-style format, which simply duplicated what came over the wire services and was in the newspapers, to the conventions of local newscasts we take for granted today—live remotes, lead and feature stories, sports and weather, all brought together by an in-studio anchor.
Pittsburghers will recognize many familiar names in Hinds's account—Bill Burns, Paul Long, Florence Sando, Eleanor Schano, and others—veterans of Pittsburgh broadcasting whom Hinds has interviewed for this book. The story they tell is the story of dozens of other stations across the country. In the process, they tell us much about the early history of television in America.
"The book provides an excellent foundation of history and understanding for broadcast news professionals, broadcast news students, and those interested in the early days of communications. It is well researched, well written, and well structured."
Lynn Boyd Hinds spent over twenty years in Pittsburgh television and radio before moving to Penn State University where he was an affiliate producer for WPSX-TV, the public broadcasting station in Central Pennsylvania. There he created and hosted the popular quiz show, "The Pennsylvania Game." Today he is Associate Professor of Broadcast News in the Perley Isaac Reed School of Journalism at West Virginia University.