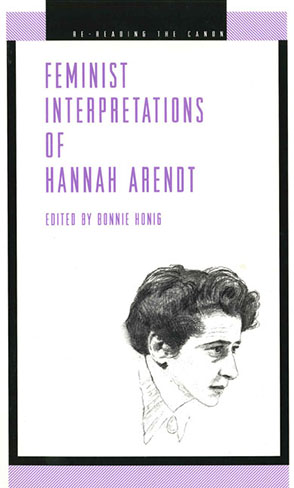 Feminist Interpretations of Hannah Arendt
Edited by Bonnie Honig
Buy
Feminist Interpretations of Hannah Arendt
Edited by Bonnie Honig
"That Hannah Arendt should have become a provocative subject for feminists is startling, so this collection can be enjoyed both for its fine quality and as a historical phenomenon, one that reveals as much about the concerns of contemporary feminism as about Hannah Arendt."
Description

Reviews

Bio

Subjects
Consisting almost entirely of new essays specially prepared for this volume,
Feminist Interpretations of Hannah Arendt
illuminates the diversity of contemporary feminisms while also generating new and suggestive readings of Hannah Arendt's political thought. The contributing authors' shared interest in Arendt provides a ground upon which to work out their disagreements regarding feminist theory and practice. At the same time, their shared commitment to some brand of feminism leads them to engage Arendt on an unusually wide array of issues, such as gender, sexuality, the body, politics, friendship, solidarity, identity, nationalism, and revolution.
Recent developments in feminist theory and practice have prompted a reconsideration of Arendt that includes a critical reevaluation of earlier feminist judgments of her work. From feminist perspectives that interrogate, politicize, and historicize—rather than simply redeploy—categories like "woman," "identity," or "experience," Arendt's well-known hostility to feminism and her critical stance toward identitarian and essentialist definitions of "woman" begin to look more like an advantage than a liability. Arendt's famous reluctance to identify herself as a woman and to address women's issues looks less like a personal problem of male-identification and more like a political stand that resists the reach of a symbolic order that seeks to define, categorize, and stabilize her in terms of one essential, unriven, and always known identity.
Thus, the volume's authors move beyond feminism's traditional concern with the "woman question" to ask, further, what contemporary feminisms might learn from Arendt's conceptions of politics, action, and identity.
"That Hannah Arendt should have become a provocative subject for feminists is startling, so this collection can be enjoyed both for its fine quality and as a historical phenomenon, one that reveals as much about the concerns of contemporary feminism as about Hannah Arendt."
Bonnie Honig is Associate Professor of Government at Harvard University. She is the author of Political Theory and the Displacement of Politics (1993).