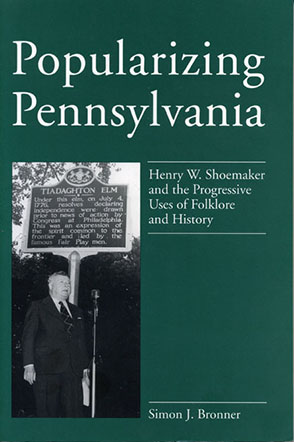 Popularizing Pennsylvania
Henry W. Shoemaker and the Progressive Uses of Folklore and History
Simon J. Bronner
Buy
Popularizing Pennsylvania
Henry W. Shoemaker and the Progressive Uses of Folklore and History
Simon J. Bronner
"Simon J. Bronner's biography of Henry Wharton Shoemaker is an important examination of an individual's contributions to the cultural preservation movement. Shoemaker was the first state-appointed folklorist in America, Pennsylvania being the first state to establish such a position. How he came to that honor and his influence on cultural conservation is an exciting narrative. . . . This book contains an excellent explanation of folklore scholarship for the lay audience. It also forced acknowledgment of the interdependence of the academy and the public sector."
Description

Reviews

Bio

Subjects
Few regions have had as energetic and influential a promoter as Henry W. Shoemaker (1880–1958), who devoted his life's work to preserving Pennsylvania's cultural and natural heritage. His memory lives on in the legends he helped promote, such as that of the Indian princess "Nita-Nee," for whom Central Pennsylvania's Nittany Mountain is supposedly named. He was also instrumental in creating Pennsylvania's noted system of parks and forests and the Pennsylvania Historical and Museum Commission. In his own day, Shoemaker was a controversial figure, talked about for his immense wealth, powerful connections, eccentric hobbies, and, above all, his consuming passion for conserving and promoting Pennsylvania's wildlife, mountains, and common folk. During the Progressive Era, he fell in with national leaders such as Theodore Roosevelt and Gifford Pinchot, who encouraged Americans to commune with nature and to appreciate its history and legend. He espoused the Progressive belief that nature and folk cultures held vital, even spiritual, powers for a modern age, especially in America, where Shoemaker hoped to create a mythology supporting nationalism. Shoemaker hoped to "sell Pennsylvania to Pennsylvanians" and instill an appreciation for the state's wilderness, threatened by industrialization. He authored hundreds of pamphlets and books on nature, history, and folklore. He was publisher of several influential newspapers in Pennsylvania, including the Altoona Tribune and the Reading Eagle. He became the first state folklorist in America, one of the first chairs of the Pennsylvania Historical Commission, and an influential member of the State Forest Commission and the State Geographic Board. He is responsible for the network of historical markers that dot the byways of the Commonwealth. For this book, the first full-length biography of Shoemaker, Simon Bronner has located never-before-available private papers and interviewed many people who knew Shoemaker. Included are rare photographs and a sampler of Shoemaker stories.
"Simon J. Bronner's biography of Henry Wharton Shoemaker is an important examination of an individual's contributions to the cultural preservation movement. Shoemaker was the first state-appointed folklorist in America, Pennsylvania being the first state to establish such a position. How he came to that honor and his influence on cultural conservation is an exciting narrative. . . . This book contains an excellent explanation of folklore scholarship for the lay audience. It also forced acknowledgment of the interdependence of the academy and the public sector."
Simon J. Bronner is Distinguished Professor of Folklore and American Studies and Coordinator of American Studies at Penn State University-Harrisburg. He is also director of the Center for Pennsylvania Culture Studies and former president of the Pennsylvania Folklore Society. He has written and edited many books, including Consuming Visions: Accumulation and Display of Goods in America, 1880–1920 (1989).
Mailing List
Subscribe to our mailing list and be notified about new titles, journals and catalogs.