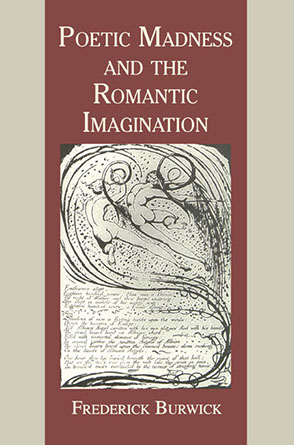 Poetic Madness and the Romantic Imagination
Frederick Burwick
Buy
Poetic Madness and the Romantic Imagination
Frederick Burwick
"In a book remarkable for breadth of scholarship and critical insight, Burwick offers us more than his title would suggest. This book is indeed about the place of 'madness' in Romantic literature, but it is also, and just as prominently, a study of the tension between reason and inspiration, the relationship of poetry and miracle, and poetry and poser (rhetorical and political), and of the critical paradox presented by a literature which seeks beyond reason to present the unpresentable."
Media

Description

Reviews

Bio

Subjects
1997 American Conference on Romanticism Book Prize
Using as his starting point the historical notion that poets may be, at least in moments of inspiration, "out of their senses," Frederick Burwick here explores the theoretical implications of inspiration as
furor poeticus
, particularly as that concept was presented during the latter eighteenth and early nineteenth centuries. Drawing on social and medical attitudes toward madness and the so-called poetic rapture, Burwick addresses the appeal to poetic madness in critical theory, the thematization of the mad poet in literature, and the reception of mad poets.
With a mad king on the throne of England, mad prophets in the marketplace, and mad poets in their midst, many writers of this period, not surprisingly, used their fiction to explore the conditions of madness. In discussing the mad poet as a character in Romantic literature, Burwick examines the reception and representation of the Italian poet Torquato Tasso in Goethe's play and in the poetry and criticism of the Schlegels, Byron, Shelley, Peacock, and Hazlitt. In his commentary on narratives of madness, Burwick discusses Nodier's Jean-François les bas-bleus, Hoffmann's Der goldne Topf, Shelley's Julian and Maddalo, and Blake's account of the struggle between Los and Urizen. The final section interprets the visual strategies adopted by Hölderlin, Nerval, and Clare in relating their visionary experiences.
"In a book remarkable for breadth of scholarship and critical insight, Burwick offers us more than his title would suggest. This book is indeed about the place of 'madness' in Romantic literature, but it is also, and just as prominently, a study of the tension between reason and inspiration, the relationship of poetry and miracle, and poetry and poser (rhetorical and political), and of the critical paradox presented by a literature which seeks beyond reason to present the unpresentable."
"An original and hugely learned study that weaves its argument from England to the continent, and from literature through philosophy and psychology of the Romantic era. It is at home in rarely noticed areas of the mentation of both Coleridge and De Quincey, as well as in a whole panoply of relevant materials and figures in Germany, most notably Kant and Fichte, Goethe, the Schlegel brothers, and Achim von Arnim."
Frederick Burwick is Professor of English and Comparative Literature at the University of California, Los Angeles. He is the author of, most recently, Illusion and the Drama: Critical Theory of the Enlightenment and Romantic Era (Penn State, 1991) and editor (with Paul Douglass) of The Crisis of Modernism: Bergson and the Vitalist Controversy (1992) and (with Walter Pape) Reflecting Senses: Perception and Appearance in Literature, Culture, and the Arts (1995).