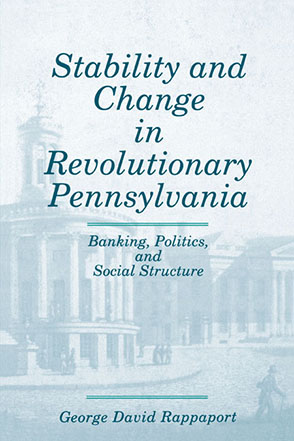 Stability and Change in Revolutionary Pennsylvania
Banking, Politics, and Social Structure
George David Rappaport
Buy
Stability and Change in Revolutionary Pennsylvania
Banking, Politics, and Social Structure
George David Rappaport
"This is a book of many virtues. Stability and Change is likely to be required reading for all who want to know more about the creation of commercial banks in the United States in general and about how the battle over Philadelphia's Bank of North America in particular. . . . Readers will find this book on a major event in national history a worthy addition to the growing list of titles published by Penn State Press on Pennsylvania during the Revolutionary era."
Description

Reviews

Bio

Subjects
Stability and Change in Revolutionary Pennsylvania
examines the society and economy of Pennsylvania from about 1740 to 1790, the period that many historians have identified as formative in the making of modern America. Did the Quaker province become truly "modern" during this period? No, says George Rappaport, but he suggests that by 1790 modernization had begun.
Rappaport is almost unique among early American historians in his application of explicit social-scientific models to historical evidence. In the first part of the book he offers an analysis of Pennsylvania's social structure—the families, communities, voluntary associations, political parties, and social classes that made up the social order. He distinguishes among the economic, political, and social spheres and finds the simultaneous maturing of a traditional social order and the birth pangs of a modern one. If the economy was not yet capitalist, the political sector was "strikingly modern." The social sphere was a complex mix of informal and flexible social groupings, social classes, and voluntary associations that included firefighting companies, immigrant aid societies, and Benjamin Franklin's Junto.
In the second part of the book, Rappaport uses his model of the social structure to develop an innovative analysis of the establishment of the Bank of North America, America's first commercial bank, in Philadelphia in 1781. In addition to exploring early banking, Rappaport offers a pathbreaking narrative of the Constitutionalist Party's repeal of the act incorporating the bank and of the successful campaign led by Robert Morris and the bank's directors to survive the loss of the charter and then restore it. He finds that the creation of commercial banks and the appearance of antibanking in the 1780s presages, in significant ways, the process of modernization America was to experience in the following centuries.
"This is a book of many virtues. Stability and Change is likely to be required reading for all who want to know more about the creation of commercial banks in the United States in general and about how the battle over Philadelphia's Bank of North America in particular. . . . Readers will find this book on a major event in national history a worthy addition to the growing list of titles published by Penn State Press on Pennsylvania during the Revolutionary era."
George David Rappaport is Professor of History at Wagner College in Staten Island, New York.