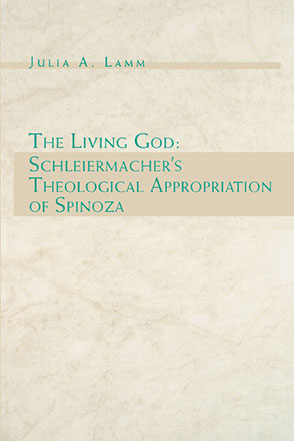 The Living God
Schleiermacher's Theological Appropriation of Spinoza
Julia A. Lamm
Buy
The Living God
Schleiermacher's Theological Appropriation of Spinoza
Julia A. Lamm
"As the first detailed and comprehensive study in English of precisely how, why and to what extent Schleiermacher appropriated the philosophy of Spinoza in developing his doctrine of God, [this book] represents something of a landmark in Schleiermacher studies. . . . [This book] is certainly to be classified as essential reading for anyone interested in the theology of Schleiermacher."
Description

Reviews

Bio

Subjects
German theologian F. D. E. Schleiermacher's doctrine of God-the first to be developed in the post-Kantian era-fundamentally changed the course of Christian theology. The degree to which his doctrine of God was influenced by the philosophy of Benedict de Spinoza remains in dispute, however. This study examines the ways in which Schleiermacher actively adopted elements of Spinoza's thought in the development of his own theological doctrine of God. Julia Lamm's analysis of little-known but seminal essays by Schleiermacher reveals his young creative genius in daring to go beyond the neo-Spinozism of Herder and the post-Kantianism of Fichte by developing his own post-Kantian Spinozism. Schleiermacher's unique simultaneous appropriation of Kant and Spinoza is characterized by four themes: an organic monism, an ethical determinism, a critical realism, and a nonanthropomorphic view of God, which Lamm traces through his two major theological works, On Religion: Speeches to Its Cultured Despisers and The Christian Faith. Ultimately, Lamm finds that Schleiermacher departs from Spinoza in significant ways. Most notably, he talks about "the living God" who is best expressed through the divine attributes of love and wisdom. This living God is what Schleiermacher refers to as the "third alternative" to, on the one hand, the anthropomorphized God of orthodox Protestantism and, on the other hand, Spinoza's natura naturans.
"As the first detailed and comprehensive study in English of precisely how, why and to what extent Schleiermacher appropriated the philosophy of Spinoza in developing his doctrine of God, [this book] represents something of a landmark in Schleiermacher studies. . . . [This book] is certainly to be classified as essential reading for anyone interested in the theology of Schleiermacher."
"The relation between Schleiermacher and Spinoza is generally recognized as an important and complex question in Schleiermacher studies, yet the only previous monograph dedicated to this subject is a piece of German scholarship dating from 1903. The Living God is a comprehensive survey of the issue and argues its thesis with single-mindedness, clarity, and cogency."
Julia A. Lamm is Associate Professor of Theology at Georgetown University.