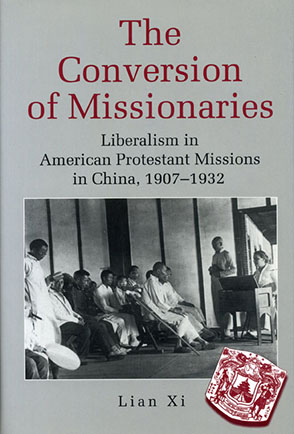 The Conversion of Missionaries
Liberalism in American Protestant Missions in China, 1907–1932
Xi Lian
Buy
The Conversion of Missionaries
Liberalism in American Protestant Missions in China, 1907–1932
Xi Lian
"A highly readable account of one of the oft-neglected aspects of the Christian mission enterprise in China, namely, what impact did it have on the missionaries and their home churches. . . . Lian Xi's work is recommended for all those interested in the history of Christian missions in China."
Description

Reviews

Bio

Subjects
Like many of her fellow missionaries to China, Pearl Buck found that she was not immune to the influence of her adopted home. In this book Lian Xi tells the story of Buck and two other American missionaries to China in the early twentieth century who gradually came to question, and eventually reject, the evangelical basis of Protestant missions as they developed an appreciation for Chinese religions and culture. Lian Xi uses these stories as windows to understanding the development of a broad theological and cultural liberalism within American Protestant missions.
The rise of missions in nineteenth-century America was an overflow of America's religious and nationalist spirit. The development of liberalism in the mission field in the twentieth century, however, precipitated a major crisis within the American missionary enterprise. It also generated what Lian Xi calls a "reverse missionary impulse" as the liberal missionaries transmitted their own theological and cultural insights to their religious base at home. This development, he argues, became one of the chief ironies in the American Protestant efforts to penetrate and convert China. The untraditional, and often syncretic, religious and cultural views that emerged out of the missionaries' experience in the East enriched Protestant thought in America and contributed to the Modernist search for a broadened interpretation of Christianity.
"A highly readable account of one of the oft-neglected aspects of the Christian mission enterprise in China, namely, what impact did it have on the missionaries and their home churches. . . . Lian Xi's work is recommended for all those interested in the history of Christian missions in China."
Lian Xi is Assistant Professor of History at Hanover College, Indiana. He has taught at Fujian Normal University.