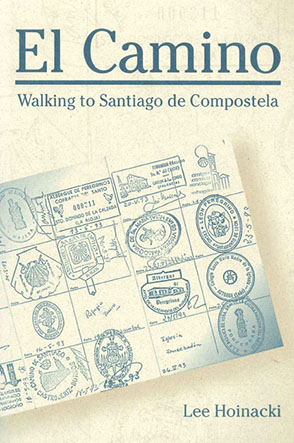 El Camino
Walking to Santiago de Compostela
Lee Hoinacki
BUY
El Camino
Walking to Santiago de Compostela
Lee Hoinacki
"Hoinacki's account of his 500-mile walk along 'the way'. . . offers its readers an insightful critique of the modern world from the feet up."
Description

Reviews

Bio

Subjects
El Camino (Spanish for "the way") is a day-by-day account of a modern American pilgrim's solitary walk from St. Jean Pied de Port in France, across the Pyrenees and northern Spain, to Santiago de Compostela, believed since medieval times to be the burial place of Saint James. During thirty-two days in 1993, Lee Hoinacki trod the 500-mile route followed by Europeans for over a thousand years, stopping each evening at pilgrim hospices, some centuries-old, to write in his diary. His reflections range from the historical examination of religious sensibility to analyses of modern developments in architecture and technology, from the theological understanding of place to the mentality of mountain bike riders. Readers share in the personal religious growth of a traditional Roman Catholic who, toward the end of his life, finds himself in the welcome company of those who walked the same camino during the past centuries. The constant interplay between pertinent anecdotes from well-chosen fellow pilgrims, both ancient and modern, and Hoinacki's experiences of contemporary Spanish customs and behavior gives the book a captivating timelessness and spiritual insight rarely found in other modern chronicles of the pilgrimage to Santiago.
"Hoinacki's account of his 500-mile walk along 'the way'. . . offers its readers an insightful critique of the modern world from the feet up."
"The constant interplay of past and present gives the body of Hoinacki's vivid account of a pilgrim's way a new dimension of timelessness that remains to captivate. There is a haunting feeling that this might well be one of the last 'classical' narrations in a long tradition of camino literature—a tradition of which the rich footnotes offer a sampling. Hoinacki reveals his diary from tourist travel during his drive to see one's own life more clearly, measuring the capacity of one's senses to grasp the unfamiliar in ways leading to a personal meaning of faith. This, therefore, is also a religious book, rediscovering more profoundly, and following in new ways, practices of classical observances, as part of the earth of the camino."
"El Camino is a thoughtful, moving self-examination of a modern pilgrim. Hoinacki finds, as I did, the meaning of the pilgrimage not in the arrival at Santiago, but in the self-knowledge the journey itself provides."
Lee Hoinacki is a former Dominican priest, professor of political science, and subsistence farmer. He holds degrees in philosophy, political science, Latin American Studies, and theology and has taught at Sangamon State University, Southern Illinois University at Carbondale, Penn State University, and, in Germany, at the University of Oldenburg and the University of Bremen.