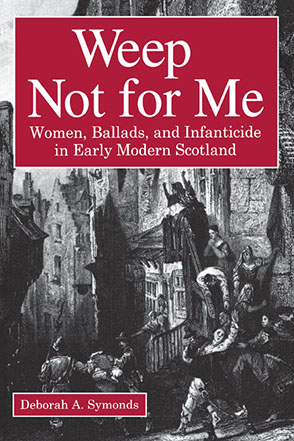 Weep Not for Me
Women, Ballads, and Infanticide in Early Modern Scotland
Deborah A. Symonds
Buy
Weep Not for Me
Women, Ballads, and Infanticide in Early Modern Scotland
Deborah A. Symonds
"This important and engaging book blends social, economic, literary, and cultural history into a penetrating and sympathetic portrait of the dangers of love and courtship in the lives of marginal working women engulfed by the flood of historical change. Beautifully written, Symonds' narrative draws readers into a long-gone world, inviting them to recognize the lives and imaginations of eighteenth-century Scottish women as intrinsically interesting and strangely similar to the lives of many women today."
Description

Reviews

Bio

Subjects
Ballad singing has long been one of the most powerful expressions of Scottish culture. For hundreds of years, women in Scotland have sung of heroines who are strong, arrogant, canny—the very opposite of the bourgeois stereotype of the good, maternal woman. In
Weep Not for Me
, Deborah Symonds explores the social world that gave rise to both the popular ballad heroine and her maternal counterpart. The setting is the Scottish countryside in the eighteenth century—a crucial period in Scotland's history, for it witnessed the country's union with England, the Enlightenment, and the flowering of letters. But there were also great economic changes as late-feudal Scotland hurried into capitalist agriculture and textile production. Ballad singing reflected many of these developments. In the ballads, marriage is rare and lovers murder each other, haunted by premarital pregnancy, incest, and infanticide, while relatives argue over dowries. These problems were not fiction. The women in this study lived and died in a period when hopes of marriage and landholding were replaced by the reality of wage labor and disintegrating households.
Using these ballads, together with court records of women tried for infanticide, Symonds makes fascinating points about the shifting meaning of womanhood in the eighteenth century, the roles of politically astute lawyers in that shift, and the significance of ballad singing as a response. She also discusses the political implications of Walter Scott's infanticide novel, The Heart of Mid-Lothian, for women and for the ballad heroine. While some historians have argued that women's history has little to do with the watershed events of textbook history, Symonds convincingly shows us that the democratic and economic revolutions of the late eighteenth century were just as momentous for women as for men, even if their effects on women were quite different.
"This important and engaging book blends social, economic, literary, and cultural history into a penetrating and sympathetic portrait of the dangers of love and courtship in the lives of marginal working women engulfed by the flood of historical change. Beautifully written, Symonds' narrative draws readers into a long-gone world, inviting them to recognize the lives and imaginations of eighteenth-century Scottish women as intrinsically interesting and strangely similar to the lives of many women today."
"This is an authentically fresh work. It offers important new understanding of the meaning of female crime, especially infanticide, which remains poorly understood today. Brilliantly researched and beautifully written, it challenges historians of other places and periods to ask how the practice of infanticide has changed in response to social and economic dislocation—on the American frontier, for example."
Deborah A. Symonds is Associate Professor of History at Drake University.