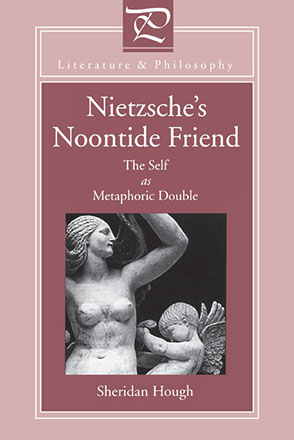 Nietzsche's Noontide Friend
The Self as Metaphoric Double
Sheridan Hough
Buy
Nietzsche's Noontide Friend
The Self as Metaphoric Double
Sheridan Hough
"A thoroughly original contribution to contemporary thinking on Nietzsche. This is clearly the ripened fruit of a great deal of meditation."
Description

Reviews

Bio

Subjects
Ever since Heidegger lectured on Nietzsche, philosophers have stressed the active side of the Übermensch, the self who aggressively consumes and exploits value. Sheridan Hough, however, argues that there is a distinctly receptive and passive side to the Nietzschean self, and thus a pervasive doubleness in Nietzsche's thought that hasn't been explored before. This doubleness is the focus of Hough's attention here.
Hough argues that Nietzsche's favorite way to describe the self is to use opposed pairs of metaphors. The sea and the land, the pursuit of archaeology and the "granite stratum" of the self, the child and pregnancy are tropes he uses to show the self as both an active critic of culture and a creation of that culture. Noon and shadow exemplify this dual thinking. The free spirit, according to Nietzsche, is dogged by a shadow, a shadow cast by the free spirit's efforts to overcome himself. Perfect noon—emblematic of the Übermensch—is the moment of ecstatic release for the free spirit. Thus the Übermensch is not a separate "superhuman" being but rather an ecstatic moment in the experience of free spirits.
Hough succeeds in showing that the doubleness motif strikes deeper into the heart of Nietzsche's thinking than has been realized. Favorite Nietzschean images, such as that of pregnancy, suddenly take on new meaning when considered in this light. Careful to avoid a reductionist view, Hough adds significantly to our understanding of Nietzsche's contribution to modern thought.
"A thoroughly original contribution to contemporary thinking on Nietzsche. This is clearly the ripened fruit of a great deal of meditation."
Sheridan Hough is Assistant Professor of Philosophy at the College of Charleston.
Mailing List
Subscribe to our mailing list and be notified about new titles, journals and catalogs.