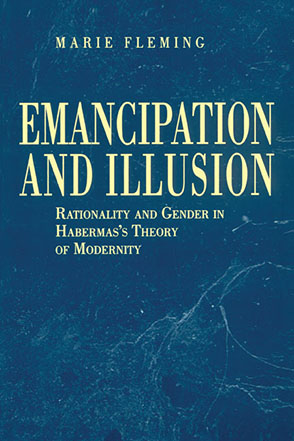 Emancipation and Illusion
Rationality and Gender in Habermas's Theory of Modernity
Marie Fleming
Buy
Emancipation and Illusion
Rationality and Gender in Habermas's Theory of Modernity
Marie Fleming
"[Fleming] explicates with great insight the most significant ideas of this most difficult contemporary theorist."
Description

Reviews

Bio

Subjects
In this comprehensive analysis of Jürgen Habermas's philosophy and social theory, Marie Fleming takes strong issue with Habermas over his understanding of rationality and the lifeworld, emancipation, history, and gender. Throughout the book she focuses attention on the various ways in which an idea of emancipation motivates and shapes his universalist theory and how it persists over several major changes in methodology. Her critique of Habermas begins from the view that universalism has to include a vision of gender equality, and she asks why Habermas, despite deeply held concerns about equality and inclusiveness, repeatedly and systematically relegates matters of gender to secondary status in his social and moral theory. She extends her critique to a range of issues in his theory of rationality and examines what she views as his very problematical claims about truthfulness, art, and bourgeois intimacy.
The point of Fleming's critique of Habermas is not to dispute universalism, but to build on the key universalist principles of inclusiveness and equality. She is not persuaded by the view, shared by both sympathizers of Habermas and his postmodern critics, that to be for or against Habermas is to be for or against universalism. Her intention rather is to show that Habermas's theory of modernity is so structured that it cannot achieve its universalist aims. Contending that his theory is not universalist enough, she claims that universalism has to be reconceived as a radical, critical, and historical project.
"[Fleming] explicates with great insight the most significant ideas of this most difficult contemporary theorist."
"Recent years have witnessed considerable debate concerning the application of Habermas's theories for feminism. While this has often focused on the more formal of aspects of his discourse ethics and deliberative democracy, Fleming's book offers an elegant appraisal of Habermas's work overall, eliciting those points in his thinking where she believes gender exclusions or biases occur."
Marie Fleming is Professor of Political Science at the University of Western Ontario. She is the author of The Geography of Freedom: The Odyssey of Élisée Reclus.