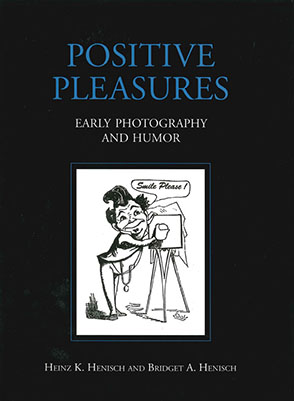 Positive Pleasures
Early Photography and Humor
Heinz K. Henisch, and Bridget Ann Henisch
Buy
Positive Pleasures
Early Photography and Humor
Heinz K. Henisch, and Bridget Ann Henisch
"This is a book which is at once profound and amusing—a rare combination. The authors have successfully attempted to explore a variety of photographic humor: humor about photography and humor with photography. On a popular level, the book is just plain funny and can be appreciated by anyone who likes a good laugh. For the historian of photography and society, it is an unrivaled compendium of the ways in which photography has made us so uncomfortable as to require a joke to relieve the tension."
Description

Reviews

Bio

Subjects
In the year that photography was introduced to the world, 1839, a cartoon in a French broadside showed a gallows for the draftsmen and engravers who would be put out of work by the new medium. This was only the beginning of a long tradition of amused, and amusing, depictions of photography, a practice now reviewed in Heinz and Bridget Henisch's new book.
Positive Pleasures explores the humorous commentary about photography that emerged in the medium's first seventy-five years, providing a panorama of photographic comedy in its many aspects, both pictorial and literary. The Henisches present a wide range of examples found in cartoons, literature, and such facets of popular culture as music, fashion, and advertising. They also discuss examples of photo-humor in the political arena.
Richly illustrated with more than 250 cartoons and photographs from international sources, the book takes readers behind the technical and commercial scenes of a new medium. It covers the period from photography's beginnings to the years following World War I when the popularization of miniature cameras redefined the world of photography—showing how, as the outward appearance of photographic paraphernalia changed, each new generation of cartoonists was provided with new challenges for their satirical skills. It also depicts photographers as humorists in their own right through examples of their amusing interpretations of reality.
Viewed today, these cartoons and anecdotes shed new light on photography's problems and pleasures as seen by society at large and prove that it is not necessary to be a photo-historian in order to appreciate photographic humor. Positive Pleasures firmly establishes photo-humor as an important part of social and visual anthropology and should stimulate new research by social scientists. It will also delight anyone with an interest in social history or the nineteenth-century world, as it deepens our understanding of both photography's impact on society and the impact of fads and fashions on photography itself.
"This is a book which is at once profound and amusing—a rare combination. The authors have successfully attempted to explore a variety of photographic humor: humor about photography and humor with photography. On a popular level, the book is just plain funny and can be appreciated by anyone who likes a good laugh. For the historian of photography and society, it is an unrivaled compendium of the ways in which photography has made us so uncomfortable as to require a joke to relieve the tension."
Heinz K. Henisch is Emeritus Professor of the History of Photography at Penn State, the founding editor of History of Photography, and a Fellow of the Royal Photographic Society of Great Britain.
Bridget A. Henisch is the author of Fast and Feast: Food in Medieval Society (1976). Together they co-authored The Photographic Experience, 1839–1914: Images and Attitudes (1994) and The Painted Photograph, 1839–1914: Origins, Techniques, Aspirations (1996), both from Penn State.