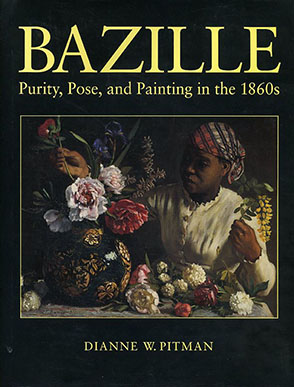 Bazille
Purity, Pose, and Painting in the 1860s
Dianne Pitman
Buy
Bazille
Purity, Pose, and Painting in the 1860s
Dianne Pitman
"This superb book provides a more nuanced, more critical, and documentarily reliable interpretation of the brief career of Frédéric Bazille than has been managed by any other scholar to date. The author's view is that Bazille managed far more than a supporting role in the explosive decade of the 1860s in France. In Bazille's oscillations between modernity and the art of the past, Pitman detects a certain cumulative pattern which she finds suggestive of a distinctly personal agenda and one which shows Bazille to be an indexical figure of a very special sort."
Description

Reviews

Bio

Subjects
Studio companion of Monet and Renoir, protégé of Courbet, and friend of Manet, Frédéric Bazille (1841-1870) is more often remembered for the financial assistance he provided to future Impressionists than for his own vivid and often unsettling work. In this first complete book in English devoted to Bazille, Dianne Pitman seeks to situate this often overlooked artist within the complex and contradictory art world of the 1860s. In the process, she greatly refines our understanding of the modernist tradition.
Pitman examines a series of major paintings and critical essays by Bazille and his contemporaries and frames them within the modernist discourse about purity, or respecting the proper limits of the medium. She stresses the problem of pose—the way in which painted subjects seem to respond to the artist's presence and the implied presence of the beholder—and explores his responses to the new medium of photography, the idea of painting without subject matter, the burden of tradition, and the problematic of self-portraiture. As these themes again come to the fore in much of the most controversial art and criticism of the late twentieth century, this study also represents an important contribution to the ongoing debate concerning the oppositions and continuities between modernism and postmodernism.
"This superb book provides a more nuanced, more critical, and documentarily reliable interpretation of the brief career of Frédéric Bazille than has been managed by any other scholar to date. The author's view is that Bazille managed far more than a supporting role in the explosive decade of the 1860s in France. In Bazille's oscillations between modernity and the art of the past, Pitman detects a certain cumulative pattern which she finds suggestive of a distinctly personal agenda and one which shows Bazille to be an indexical figure of a very special sort."
Dianne W. Pitman is an independent scholar who lives in Canyon, California.