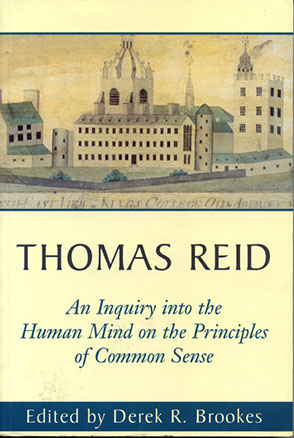 Thomas Reid's
An Inquiry into the Human Mind on the Principles of Common Sense
A Critical Edition
Thomas Reid, Edited by Derek Brookes
Buy
Thomas Reid's
An Inquiry into the Human Mind on the Principles of Common Sense
A Critical Edition
Thomas Reid, Edited by Derek Brookes
"In this critical edition of An Inquiry Into the Human Mind, Reid's classic eighteenth-century treatise in the philosophy of mind appears with supplementary manuscripts and correspondence that, along with a crack editing job, provide the context for a rich understanding of this work."
Description

Reviews

Bio

Subjects
Thomas Reid's
Inquiry
has long been recognized as a classic philosophical text. Since its first publication in 1764, there have followed no less than forty editions. The proliferation of secondary literature further indicates that Reid's work is flourishing as never before. Yet Reid scholars have been acutely aware of proceeding without the full textual evidence. There exist thousands of unpublished manuscript pages in Reid's hand, many of which relate directly to the composition of
Inquiry
. Furthermore, no account has been taken of the successive alterations made to the four editions published in Reid's lifetime. The present edition, therefore, aims to present a complete, critically edited text of the
Inquiry
, accompanied by a judicious selection of manuscript evidence relating to its composition.
The volume contains an editor preface presenting the raison d'être for the edition followed by an introduction giving the central argument of the Inquiry by means of an historical and philosophical account of its formation; an account which also indicates the significance of the MSS contained in the section containing related documents. The critical text is based on the fourth life-time edition (1785), while the textual notes include bibliographical details and allusions, translations, references to secondary literature, and selected passages from Reid's MSS.
"In this critical edition of An Inquiry Into the Human Mind, Reid's classic eighteenth-century treatise in the philosophy of mind appears with supplementary manuscripts and correspondence that, along with a crack editing job, provide the context for a rich understanding of this work."
"This edition of the Inquiry . . . is a model of careful scholarship. . . . This is a superb work. Highest commendation for all collections."
Derek R. Brookes is an independent scholar and the coeditor of Thomas Reid: Essays on the Intellectual Powers of Man (Penn State, 2002). He has a Ph.D. in philosophy from the Australian National University.
Thomas Reid (1710–96) was born near Aberdeen and educated at Marischal College. His major work, An Inquiry into the Human Mind on the Principles of Common Sense, was published in 1764, the year in which he accepted appointment as Professor of Moral Philosophy at the University of Glasgow.