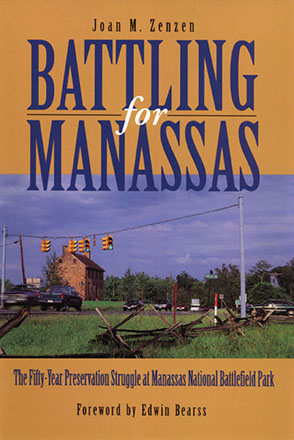 Battling for Manassas
The Fifty-Year Preservation Struggle at Manassas National Battlefield Park
Joan M. Zenzen
Buy
Battling for Manassas
The Fifty-Year Preservation Struggle at Manassas National Battlefield Park
Joan M. Zenzen
"Charting the fifty years of preservation attempts surrounding Manassas National Battlefield Park, Zenzen does a thorough job of showing how the Disney controversy is only the latest of many battles over the Civil War battlefield. . . . In charting these varied battles, Battling for Manassas convinces us of how our understanding of the past is colored by individual personalities and priorities, organizational resources, and institutional agendas."
Description

Reviews

Bio

Subjects
When the Disney Company ended months of controversy in 1995 by deciding against locating its historic theme park near the National Battlefield Park in Manassas, Virginia, advocates of historic preservation had won their own battle but perhaps not their war.
Few places exemplify the problems of historic preservation as urgently as Manassas. The site of this Civil War battle, also known as Bull Run, has been encroached upon by plans for an interstate highway, a cemetery, a shopping mall, and two theme parks. As Washington continues its sprawl into the Virginia countryside, pressure will surely mount to develop the remaining open land surrounding the battlefield.
The history of Manassas battlefield illustrates that the Disney controversy is only the latest in a long line of skirmishes over historic preservation and use. Battling for Manassas is a record of the struggles to preserve the park over the past fifty years. First commissioned as a report by the National Park Service, this book tells how park managers, government officials, preservationists, developers, and concerned citizens have managed to find compromises that would protect the site while accommodating changes in the surrounding community.
Joan Zenzen's narrative places these highly publicized preservation conflicts within the framework of the park's history. She traces the efforts to preserve this Civil War battleground as it has slowly been surrounded by suburban development and discloses how issues involving visitors' facilities, recreation use of parkland, non-park-related usage, and encroachment on park boundaries by commercial interests have all come into play. Her study draws on interviews with many individuals who have been influential in the park's history—including park service officials, members of Congress, representatives of preservation groups, developers, and local officials—as well as on archival documents that help explain the nature of each controversy. She also shows that the Park Service's reluctance to conduct long-range planning following the controversy over Marriott's proposed Great America theme park contributed to later battles over development.
Battling for Manassas is the story of how one site has garnered national attention and taught Americans valuable lessons about the future of historic preservation. It demonstrates to everyone interested in the Civil War that, with only 58 of 384 sites currently under Park Service jurisdiction, what has happened at Manassas might well occur on other historic grounds threatened by development or neglect.
"Charting the fifty years of preservation attempts surrounding Manassas National Battlefield Park, Zenzen does a thorough job of showing how the Disney controversy is only the latest of many battles over the Civil War battlefield. . . . In charting these varied battles, Battling for Manassas convinces us of how our understanding of the past is colored by individual personalities and priorities, organizational resources, and institutional agendas."
"Without a word about tactics and strategy, Zenzen has written one of the year's most important books relating to the Civil War. . . . If you read one book related to the Civil War this year, read Zenzen's book and tell a friend."
"An account of the fights to preserve the Manassas battlefields from development that provides a lesson for other historic sites. Battling for Manassas is a well researched, well written book. It is of great interest to anybody who is interested in battlefield preservation efforts for it provides an excellent overview of the process that has been successfully used at Manassas. It is of equal interest to anybody who has an appreciation for America's past for it most capably shows what is necessary to preserve our Civil history."
"This impressive book will interest the many people who share America's extraordinary love affair with Civil War battlefields. It covers the earliest moves to create the Manassas National Battlefield Park up through the Disney controversy. The interpretations are fair and balanced, with many important insights that will be of value in future efforts to combine preservation with responsible economic development."
Joan M. Zenzen, who has a doctoral degree in American Studies, is a historian living in Maryland.
Also of Interest
Mailing List
Subscribe to our mailing list and be notified about new titles, journals and catalogs.