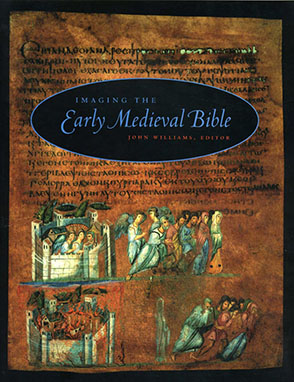 Imaging the Early Medieval Bible
Edited by John Williams
Buy
Imaging the Early Medieval Bible
Edited by John Williams
"This book belongs on the bookshelf of every (medieval) art historian."
Description

Reviews

Bio

Subjects
In
Imaging the Early Medieval Bible
, five outstanding medievalists present a compelling revisionist interpretation of the beginnings of biblical illustration. While scholars have long argued that the subjects and format of such illustrations were largely determined by archetypes of the earliest years of Christian artistic culture, the contributors to this volume show how decorated Bibles were shaped instead by ad hoc artistic decisions that resulted in a variety of creative approaches.

Critically engaging with Kurt Weitzmann's method of "picture criticism" and his traditional focus on the origins of illustration methods, the contributors attend to particular cultural contexts to examine a growing and experimental world of biblical imagery. From analyses of Jewish motifs in Christian art, the commissions of the Insular and Carolingian northern Bibles, and the Bible of 960 in León to a reconsideration of Roman manuscript art and the relationship between biblical manuscript illumination and monumental painting, the essays in this volume present a wide range of circumstances and innovations that reframe our understanding of the artists' choices.
Meticulously researched and richly illustrated with photos of rare illuminated manuscripts,
Imaging the Early Medieval Bible
is an indispensable contribution to the study of medieval art.
"This book belongs on the bookshelf of every (medieval) art historian."
"The five contributors to Imaging the Early Medieval Bible effectively challenge Weitzmann's stranglehold on their discipline by focussing less on 'iconographic genealogies' and more on the revolutionary aspects of early medieval biblical illustration, the unique cultural and liturgical contexts of early medieval luxury Bibles, and Jewish-Christian artistic and exegetical exchange in late antiquity. I found this book to be extremely valuable, both in terms of the historiographical issues it raises and its clear and concise treatment of the latest theories in the field of early medieval art history."
"Foremost in [the volume contributors'] critique, which I share, is Weitzmann's displacement of the focus of art-historical attention from the material artifact at hand to an imagined set of antecedents. . . . these self-consciously revisionist studies provide a valuable picture of present-day moods and concerns on topics surrounding the illumination of biblical texts in the early Middle Ages."
"With its . . . breathtaking photos of extraordinary rare manuscripts, Imaging the Early Medieval Bible could easily pass as a 'coffee-table' book one might find in a well-educated church official's home. It thus could easily be passed over by serious scholars, but that would be a mistake."
John Williams is Distinguished Service Professor Emeritus of Art History at the University of Pittsburgh. His previous books include The Illustrated Beatus: A Corpus of the Illustrations of the Commentary on the Apocalypse (1994) and A Spanish Apocalypse: The Morgan Beatus Manuscript (1991).