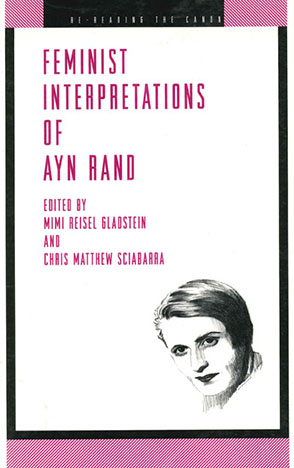 Feminist Interpretations of Ayn Rand
Edited by Mimi Riesel Gladstein and Chris Matthew Sciabarra
BUY
Feminist Interpretations of Ayn Rand
Edited by Mimi Riesel Gladstein and Chris Matthew Sciabarra
"Too often, Rand is either revered as a prophet or dismissed as a crank. Feminist Interpretations of Ayn Rand approaches her as a writer and thinker of profound insights and equally profound contradictions, who offered an important and inspiring but flawed and limited vision of life. . . . Such a serious approach can ultimately end Rand's intellectual marginalization. This volume takes a major step in that direction. In the process, it addresses issues of sexual equality and difference that are more relevant than ever today."
Description

Reviews

Bio

Subjects
This landmark anthology is the first to engage critically the writings of Ayn Rand from feminist perspectives. The interdisciplinary feminist strategies of re-reading Rand range from the lightness of camp to the darkness of de Sade, from postandrogyny to poststructuralism. A highly charged dialogue on Rand's legacy provides the forum for a reexamination of feminism and its relationship to egoism, individualism, and capitalism. Rand's place in contemporary feminism is assessed through comparisons with other twentieth-century feminists, such as de Beauvoir, Wolf, Paglia, Eisler, and Gilligan. What results is as provocative in its implications for Rand's system as it is for feminism.
"Too often, Rand is either revered as a prophet or dismissed as a crank. Feminist Interpretations of Ayn Rand approaches her as a writer and thinker of profound insights and equally profound contradictions, who offered an important and inspiring but flawed and limited vision of life. . . . Such a serious approach can ultimately end Rand's intellectual marginalization. This volume takes a major step in that direction. In the process, it addresses issues of sexual equality and difference that are more relevant than ever today."
Mimi Reisel Gladstein is Associate Dean of Liberal Arts at the University of Texas, El Paso. She is the author of The Ayn Rand Companion (1984; forthcoming revised edition, 1999) and The Indestructible Woman in Faulkner, Hemingway, and Steinbeck (1986).
Chris Matthew Sciabarra is Visiting Scholar in the Department of Politics at NYU and is the author of Ayn Rand: The Russian Radical (1995) and Marx, Hayek, and Utopia (1995).
Also of Interest
Mailing List
Subscribe to our mailing list and be notified about new titles, journals and catalogs.