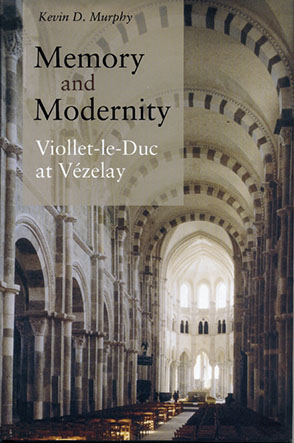 Memory and Modernity
Viollet-le-Duc at Vézelay
Kevin D. Murphy
Buy
Memory and Modernity
Viollet-le-Duc at Vézelay
Kevin D. Murphy
"Through rigorous research Murphy reconstructs an extensive array of archival documentation, which can serve as a model for this type of research."
Description

Reviews

Bio

Subjects
Memory and Modernity
focuses on the first project of the renowned nineteenth-century French architect and theorist Eugène-Emmanuel Viollet-le-Duc, the restoration of the Romanesque church of the Madeleine at Vézelay in Burgundy. This is the first book-length study to approach the work of Viollet-le-Duc from the perspective of institutional and social history.
Kevin D. Murphy situates the Vézelay restoration project within the government architectural bureaucracy that emerged in the July Monarchy. Drawing on extensive archival records, he describes the controversy that arose from the restoration process, as changes in the physical form of the church, its permitted uses, and its place in history provoked heated exchanges among the Burgundy region and Paris, the Catholic clergy and government officials.
Examining in detail the architect's transformation of the church of the Madeleine, the book also draws out the implications of the project for understanding Viollet-le-Duc's theoretical development. Murphy shows how Viollet-le-Duc's rationalist interpretation of medieval architecture informed the decisions that were made about the restoration, but also how that way of thinking was influenced by the architect's experience at Vézelay.
"Through rigorous research Murphy reconstructs an extensive array of archival documentation, which can serve as a model for this type of research."
Kevin D. Murphy is Associate Professor of Art History at the City University of New York Graduate Center and Brooklyn College. He is the co-editor, with Sarah L. Giffen, of A Noble and Dignified Stream: The Piscataqua Region in the Colonial Revival, 1860–1930 (1992), which won the Ruth Emery Award for Nineteenth-Century Studies.