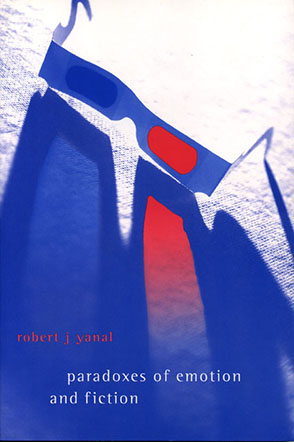 Paradoxes of Emotion and Fiction
Robert J. Yanal
BUY
Paradoxes of Emotion and Fiction
Robert J. Yanal
"This confident, rigorous study makes real progress toward illuminating a deeply puzzling aspect of our emotional involvement with literature."
Description

Reviews

Bio

Subjects
How can we experience real emotions when viewing a movie or reading a novel or watching a play when we know the characters whose actions have this effect on us do not exist? This is a conundrum that has puzzled philosophers for a long time, and in this book Robert Yanal both canvasses previously proposed solutions to it and offers one of his own.
First formulated by Samuel Johnson, the paradox received its most famous answer from Samuel Taylor Coleridge, who advised his readers to engage in a "willing suspension of disbelief." More recently, philosophers have argued that we are irrational in emoting toward fiction, or that we do not emote toward fiction but rather toward factual counterparts, or that we do not have real but only quasi-emotion toward fiction, generated by our playing games of make-believe. All of these proposed solutions are critically reviewed.
Finding these answers unsatisfactory, Yanal offers an alternative, providing a new version of what has been dubbed "thought theory." On this theory, mere thoughts not believed true are seen as the functional equivalent of belief at least insofar as stimulating emotion is concerned. The emoter's disbelief in the actuality of components of the thoughts must be rendered relatively inactive. Such emotion is real and typically has the character of being richly generated yet unconsummated.
The book extends this theory also to resolving other paradoxes arising from emotional response to fiction: how we feel suspense over what comes next in a story even when we are re-reading it for a second or third time; and how we take pleasure in narratives, such as tragedy, that excite unpleasant emotions such as fear, pity, or horror.
"This confident, rigorous study makes real progress toward illuminating a deeply puzzling aspect of our emotional involvement with literature."
Robert J. Yanal is Professor of Philosophy at Wayne State University. He is the author of Basic Logic (1988) and editor of Institutions of Art: Reconsiderations of George Dickie's Philosophy (Penn State, 1993).