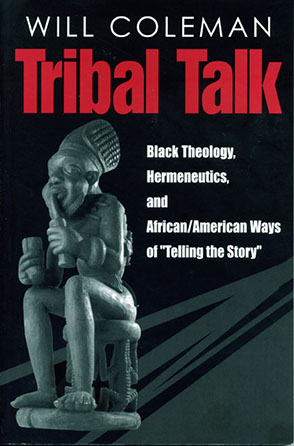 Tribal Talk
Black Theology, Hermeneutics, and African/American Ways of "Telling the Story"
Will Coleman
Buy
Tribal Talk
Black Theology, Hermeneutics, and African/American Ways of "Telling the Story"
Will Coleman
"Since the 1960s a whole new field and orientation of historical analysis on the slave narratives have opened up, but this field has largely ignored what seems to have been extremely important in the narratives themselves: the religious experience. Coleman corrects this oversight through his keen sensitivity to the transformative blending of Euro-American Christian symbols and traditional African symbols and practices."
Description

Reviews

Bio

Subjects
The experiences of enslaved African Americans have been recorded in writings identified as slave narratives, also called liberation narratives. Although much has been written about slave culture and slave religion from sociological and historical perspectives, Tribal Talk is the first book to study slave narratives as a source for a contemporary, constructive black theology, while also paying close attention to their literary and rhetorical value. Will Coleman explores from a theological, historical, and literary perspective the oral traditions of African American culture, and how those oral traditions have made an impact on the composition of slave narratives. Specifically, Coleman examines the process by which religious beliefs were passed down from generation to generation. He explores the various interpretive strategies that aid in understanding both the theological and the literary nature of African American slave narratives. Ultimately, he links black theology with the language and the religious experiences of enslaved black people.
"Since the 1960s a whole new field and orientation of historical analysis on the slave narratives have opened up, but this field has largely ignored what seems to have been extremely important in the narratives themselves: the religious experience. Coleman corrects this oversight through his keen sensitivity to the transformative blending of Euro-American Christian symbols and traditional African symbols and practices."
"This text, in a subtle but powerful way, breaks new ground and makes a unique contribution to black theology."
Will Coleman is Theologian-in-Residence at First African Presbyterian Church and Co-director of the Black Kabbalah Institute, both in Lithonia, Georgia.