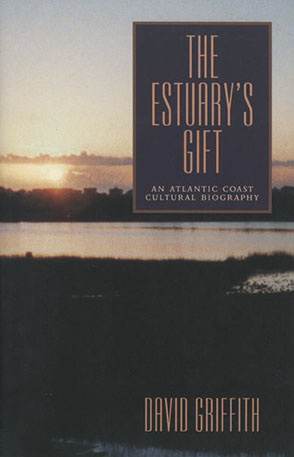 The Estuary's Gift
An Atlantic Coast Cultural Biography
David Griffith
Buy
The Estuary's Gift
An Atlantic Coast Cultural Biography
David Griffith
"[Griffith] offers a wonderful, timely book for those concerned about loss—not only the deterioration of the estuaries and ecological systems, but loss of community, way of life and livelihood, and control of the political process."
Media

Description

Reviews

Bio

Subjects
Honorable Mention for the 2001 James Mooney Award from the Southern Anthropological Society
A coastal region's oldest inhabitants, particularly families of watermen and commercial fishers, often possess the deepest knowledge about a region and its ecological problems. Because of this, assaults on watermen lifeways and commercial fishing families—whether from organized recreational interests, real estate developers, or public policy makers—reduce the cultural and biological diversity of the coast and often upset the delicate environmental balance. Through the lens of the Mid-Atlantic Coast, especially the Chesapeake Bay and the Albemarle and Pamlico Sounds of North Carolina, David Griffith develops the theme that environmental degradation follows the loss of the most intimate understandings of coastal ecosystems.
In The Estuary's Gift, Griffith traces the development of Mid-Atlantic cultures from the Algonquins and the earliest European families who hunted whales and netted herring, to present-day commercial fishing families who work the complex estuarine systems of the coast. In the process, he chronicles a series of developments that erode communities across American landscapes: the wearing away of local and regional history that results when national retail and restaurant chains convert local merchants into clerks and busboys, or the loss of biological diversity that follows the reconfiguration of countrysides to support monocrop agriculture, industrial chicken production, hog farming, forestry, and mining.
Griffith insists that we heed the ways we treat one another in light of the ways we treat nature, measuring both by the standards we invoke when we give and receive gifts. Stories of conflict among fishers, of Mexican immigrant women brought to seafood houses to pick the meat from cooked, cooled crab—displacing and replacing African-American women—and of the slow yet steady attempts to criminalize family fishing practices that reach back thirteen generations show the ways in which the rights, obligations, and responsibilities of gift exchange have eroded. Only when we consider human relations as an integral part of the natural cycles will we begin to restore the balance.
More than an account of the decline of fishing families or stressed natural resources, The Estuary's Gift illustrates how pressing social problems, such as environmental degradation and assaults on working families, play out in local contexts and local history.
"[Griffith] offers a wonderful, timely book for those concerned about loss—not only the deterioration of the estuaries and ecological systems, but loss of community, way of life and livelihood, and control of the political process."
"The necessity for a concise cultural biography of the Atlantic Coast is reflected in the headlines of current newspapers concerning net bans, beach access, water pollution, and heritage tourism. Through a haze of media interpretation of bureaucratic, scientific, and political rhetoric comes a book dedicated to understanding the cultural identity of coastal dwellers and their significance to the global community. . . . Don't read this book if you plan to go to the beach wearing rose-colored sunglasses with no intention of giving back to the gift given."
"These eight delightfully written essays beautifully illustrate the concept of bioregionalism. Telling the stories of the fishers of the mid-Atlantic coast, David Griffith weaves a powerful tale of the interrelationship of people and their natural environment. He shares stories and observations based on extensive interviews, conducted over a number of years as parts of studies for understanding the impact of fishing regulations on commercial fishers. . . . The Estuary's Gift would be wonderful . . . for discussion in a class on bioregions or the interrelationships between people and nature."
"Heavily focused on developments of the last decade, his book is one of the best-drawn, best-explained depictions yet of the wide variety of practical, social, and political situations watermen and women find themselves in right now.
For those who are unfamiliar with the Carolina coast, Griffith's strong combination of overview and case study will both complement and update earlier works. Those with substantial awareness of the area and its sub-regions will also find Griffith's work both illuminating and alarming, as The Estuary's Gift reminds us anew how vast and amazing this territory is, how complex its history and—no less so—its present."
"It is the strength of nuance contained in these essays that makes this book a 'must read' for those interested in maritime studies and coastal ecology. While there have been many books written lately that claim to be intimate portrayals of a community's relationships with the sea, Griffith's unique base of knowledge makes his the most effective of the lot. Additionally, the text's brevity and use of authentic people and stories make it an excellent choice as a humanities text in marine ecology courses."
David Griffith is Senior Scientist and Associate Professor of Anthropology at East Carolina University. He is author of Jones's Minimal: Low Wage Labor in the United States (993), Working Poor: Farmworkers in the United States (with Ed Kissam, 1995), and Any Way They Cut It: Meat Packing and Small Town America (with Don Stull and Michael Broadway,1995).
Also of Interest
Mailing List
Subscribe to our mailing list and be notified about new titles, journals and catalogs.