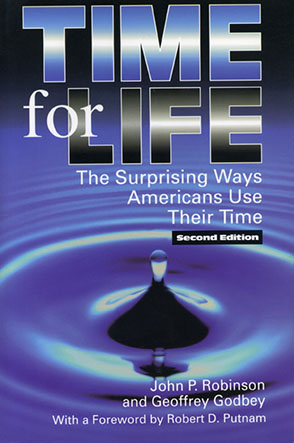 Time for Life
The Surprising Ways Americans Use Their Time
John Robinson, and Geoffrey Godbey
BUY
Time for Life
The Surprising Ways Americans Use Their Time
John Robinson, and Geoffrey Godbey
"Time for Life, an outstanding work of scholarship that manages to be highly readable, demands the attention of everyone interested in what's happening in today's society."
Description

Reviews

Bio

Subjects
Is it possible that Americans have more free time than they did thirty years ago? While few may believe it, research based on careful records of how we actually spend our time shows that we average more than an hour more free time per day than in the 1960s. Time-use experts John P. Robinson and Geoffrey Godbey received national attention when their controversial findings were first published in 1997. Now the book is updated, with a new chapter that includes results of the 1995–1997 data from the Americans' Use of Time Project.
"Time for Life, an outstanding work of scholarship that manages to be highly readable, demands the attention of everyone interested in what's happening in today's society."
"Time for Life . . . is excellent fodder for lively classroom discussions, not only about family time use, but about the ontological and epistemological assumptions in the prevailing post-positivist paradigm of family science."
"Regardless of where you stand on this issue, Robinson and Godbey's arguments and data make for very interesting reading and open a cultural window on American society. . . . This is a piece of scholarship that should be read and its conclusions contemplated by people well outside the readership of this journal. . . . Time for Life is good social science research that should appeal to a broad audience."
"This is an important book that merits the attention it has received. Its main point is a well-constructed warning against an uncritical reliance on survey data and analysis that is far removed from the phenomena being investigated, however reputable the source."
John P. Robinson is Professor of Sociology and Director of the Americans' Use of Time Project at the Survey Research Center at the University of Maryland. He is the senior author of several books dealing with the use of time and the quality of life, including The Rhythm of Everyday Life: How Soviet and American Citizens Use Time (1988) and How Americans Use Time (1977).
Geoffrey Godbey is Professor of Leisure Studies at Penn State University. His most recent book is Leisure in Your Life: An Exploration, 5th Edition (1999).