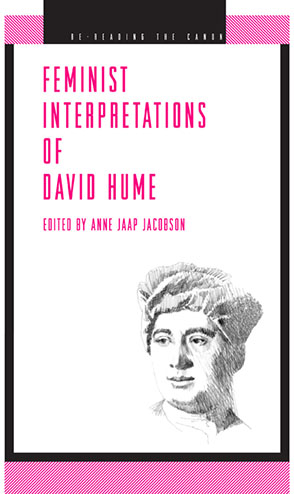 Feminist Interpretations of David Hume
Edited by Anne Jaap Jacobson
Buy
Feminist Interpretations of David Hume
Edited by Anne Jaap Jacobson
"What is best in this collection is that it focused attention on some of the often neglected aspects of Hume's philosophy. Given that feminists are concerned with exposing and investigating what is overlooked, this uncovering may be what is most centrally feminist about the book. It also succeeds, as Jacobson urges in her introduction, in encouraging readers to ask more questions, to continue the discussion and to find new and creative ways of reading Hume."
Description

Reviews

Bio

Subjects
This book is the first collection of feminist essays on one of the central figures in the history of English-speaking philosophy. Besides providing a rich variety of feminist viewpoints on a wide range of Hume's writings, the contributors introduce new themes into the scholarship on Hume, including gendered metaphors in his metaphysical texts, the role of society in the conception of the human mind, and his conception of human nature in relation to recent rejections of essentialism.
Hume scholarship as a whole still reflects the relative neglect in mainstream analytic philosophy of alternative—and so feminist—perspectives on philosophy. The essays in this volume show that the standard, narrow view of philosophy excludes valuable perspectives.
These essays cover a great diversity of subjects in Hume's work. They discuss his theory of knowledge; his conception of human inquiry and the human mind; his views on our knowledge of the external world and the future; his treatments of the passions, emotions and virtue; his conception of moral education; his views on aesthetics and religion; and his historical work.
The contributors, members of philosophy, political science, theology, and English departments, employ a variety of critical techniques. The result is a volume that stands in enlightening contrast to the standard collections on David Hume.
Contributors are Annette C. Baier, Jennifer A. Herdt, Nancy J. Hirschmann, Sheridan Hough, Anne Jaap Jacobson, Joyce Jenkins, Genevieve Lloyd, Susan A. Martinelli-Fernandez, Robert Shaver, Aaron Smuts, Christine Swanton, Jacqueline Taylor, Kathryn Temple, and Christopher Williams.
"What is best in this collection is that it focused attention on some of the often neglected aspects of Hume's philosophy. Given that feminists are concerned with exposing and investigating what is overlooked, this uncovering may be what is most centrally feminist about the book. It also succeeds, as Jacobson urges in her introduction, in encouraging readers to ask more questions, to continue the discussion and to find new and creative ways of reading Hume."
"Just one of these contributions would make the collection significant; that it delivers both makes it a must-have for both feminists theorists and Hume scholars."
Anne Jaap Jacobson is Associate Professor of Philosophy and Chair of the Cognitive Science Initiative at the University of Houston.
Mailing List
Subscribe to our mailing list and be notified about new titles, journals and catalogs.