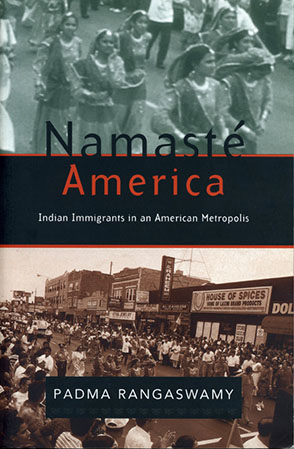 Namasté America
Indian Immigrants in an American Metropolis
Padma Rangaswamy
Buy
Namasté America
Indian Immigrants in an American Metropolis
Padma Rangaswamy
"One of the most comprehensive documents of the history of Indian immigrants in the United States. Rangaswamy demonstrates full command of the history, culture, and linguistic profile of America's Indian community, offering both insiders' and outsiders' perspectives on issues of importance to immigrants."
Description

Reviews

Bio

Subjects
At some point during the 1990s the size of the Asian Indian population in the United States surpassed the one million mark. Today's Indians in America are a diverse group. They come from every state in India as well as from around the globe: England, Canada, South Africa, Tanzania, Fiji, Guyana, and Trinidad. They also belong to many religious faiths, including Hinduism, Islam, Sikhism, Jainism, Christianity, and Zoroastrianism. Many have high professional skills and are fluent in English and familiar with Western culture. They have settled throughout the United States, largely in metropolitan areas. Namasté America tells this story of Indian immigrants in America, focusing on one of the largest communities, Chicago.
"One of the most comprehensive documents of the history of Indian immigrants in the United States. Rangaswamy demonstrates full command of the history, culture, and linguistic profile of America's Indian community, offering both insiders' and outsiders' perspectives on issues of importance to immigrants."
"Rangaswamy's book is a superb resource for the study of Indian immigrants in the U.S. Her documentation of the Indian community in Chicago is not only thorough but interesting and provides readers with a wide variety of both quantitative and ethnographic data that would be useful for researchers in the social sciences as well as the humanities. Essential reading for those interested in issues pertaining to Indian immigration."
"This is a theoretically sensitive, readable book that is constructed by turns from inside and outside, seeing through screens of race, class, and gender. The text rises above the specific and provides useful general insights to understanding lives of Indian immigrant communities in other parts of the country and the world."
"This book is the newest addition to the growing literature on this subject, and perhaps the most detailed, comprehensive, and articulate one."
"It is, I believe, the best balanced single study of a modern Indian community in America. Its treatment is far too complex for a brief review to do it justice, but she covers much more than just Chicago.
But the greatest strength of this book is its broad analytical assessment of the Asian Indian community in Chicago, its organizations, and the generational and other strains and stresses within it."
Padma Rangaswamy is Project Coordinator for the Neighborhood History Project at the Chicago Historical Society. She is also a Visiting Assistant Professor of History at Loyola University and the University of Illinois at Chicago.