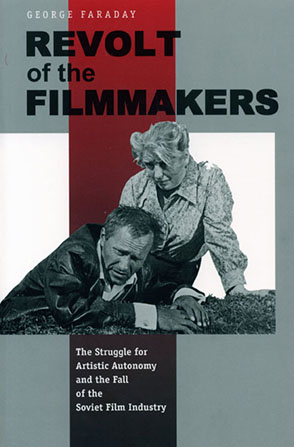 Revolt of the Filmmakers
The Struggle for Artistic Autonomy and the Fall of the Soviet Film Industry
George W. Faraday
Buy
Revolt of the Filmmakers
The Struggle for Artistic Autonomy and the Fall of the Soviet Film Industry
George W. Faraday
"This book should appeal to Russian-area specialists and Russian film buffs, and it should appeal as well to sociologists of power, social change, and professions and organization. Faraday's readers will find a good story of an important social event and one more piece for theoretical projects."
Description

Reviews

Bio

Subjects
One of the many unforeseen consequences of the fall of the Soviet Union has been the sudden collapse of the domestic film industry, probably the most privileged mass cultural medium of the Soviet Union. By the mid-1980s, some 150 feature films were produced annually for audiences numbering nearly four billion per year. Since 1991, however, cinema attendance has plummeted by a factor of at least one hundred, and the remnants of the once huge audiences now watch an overwhelming number of imported, mostly American, films.
Revolt of the Filmmakers
is the first account of Russia's film industry since this disastrous decline.
According to Faraday, who was film correspondent for The Moscow Times during the mid-1990s, the turning point came during the years of perestroika, when Russian filmmakers achieved an unprecedented degree of freedom from managerial control. They immediately used their newfound liberty to dismantle the industry's central administrative structures in the name of artistic autonomy. Filmmakers were at last free to follow their own aesthetic criteria, and many began to orient their work entirely toward critical acclaim at festivals. But the unintended result of this revolution in the name of art was the alienation of the mass Russian audience. Today some filmmakers are attempting to regain a mass audience by celebrating and mythologizing national cultural identity, but the Russian film industry has never fully recovered from the "revolt" of the filmmakers.
For this book Faraday has interviewed Russian filmgoers, critics, directors, and other industry insiders. Among those directors whose work he considers are Alexei Balabanov (The Castle), Nikita Mikhalkov (Burnt by the Sun), Karen Shaknazarov (American Daughter), Pyotr Todorovsky (Moscow Country Nights), and Marina Tsurtsumia (Only Death Comes for Sure). He also draws upon documentary evidence, including the Russian press and the diaries of Andrei Tarkovsky (The Sacrifice, Solaris).
Few predicted that the loosening of state ideological and institutional controls would threaten the survival of Russia's once-mighty film industry. Even today Lenin's often-quoted, if apocryphal, declaration that "cinema is the most important of all the arts" remains emblazoned over the gateway to Mosfilm studios—but its relevance is in doubt at the start of a new millennium.
"This book should appeal to Russian-area specialists and Russian film buffs, and it should appeal as well to sociologists of power, social change, and professions and organization. Faraday's readers will find a good story of an important social event and one more piece for theoretical projects."
"In general, this study should be welcome not only in film classes but those on Russian performance arts, culture, history, sociology and even economics. Faraday's extensive endnotes and bibliography will be of help to those who wish to conduct further research."
George Faraday received his Ph.D. in Anthropology from Duke University in 1997. He is an independent scholar living in Washington, DC.