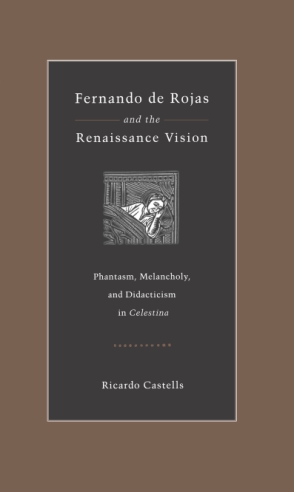 Fernando de Rojas and the Renaissance Vision
Phantasm, Melancholy, and Didacticism in "Celestina"
Ricardo Castells
Get
Fernando de Rojas and the Renaissance Vision
Phantasm, Melancholy, and Didacticism in "Celestina"
Ricardo Castells
"In this excellent book, Castells studies the late medieval and early Renaissance tradition of the spiritual vision—a phenomenon which he convincingly argues is of basic importance to the structure of Celestina. This book will doubtless change the way in which scholars understand and interpret Celestina, influencing work on the play for years to come."
Unlocked

Media

Description

Reviews

Bio

Subjects
An Open Access edition of Fernando de Rojas and the Renaissance Vision is available through PSU Press Unlocked. To access this free electronic edition click here. Print editions are also available.
Selected for jacket design for the 2000 Book, Jacket, and Journal Show of the Association of American University Presses
The late medieval masterpiece Celestina has long been the focus of controversy, over both its authorship and the apparent contradictions and inconsistencies within its plot. Scholars trace the publication of Celestina to 1499, when Fernando de Rojas supposedly discovered the first act and completed the remainder of the drama within a two-week period. The plot centers on the ill-fated love of Calisto and Melibea and the fascinating character of the old bawd, Celestina. Scholars disagree about how to interpret the meeting of the two lovers in the first scene, when they share an unusual conversation that is incongruous with their comportment in the remainder of the work. Ricardo Castells seeks to resolve this and other seeming contradictions by tracing the oneiric, phantasmal, and melancholic traditions of the Renaissance and their effect on the composition of Celestina. Castells explores the European cultural and literary tradition—works of both fiction and nonfiction that would have been available to Rojas—to discover theoretical approaches to the physiology of lovesickness and its accompanying dreams and visions. He employs the themes of love, medicine, and dreams in these works to explain the seemingly illogical progression of the play's action and the ultimately detrimental effects of melancholy, lovesickness, and sensual contamination on the protagonist, Calisto. In so doing, Castells places Celestina within its appropriate cultural and historical context, enriching our perception not only of the text itself but also of the traditions that helped to produce it.
"In this excellent book, Castells studies the late medieval and early Renaissance tradition of the spiritual vision—a phenomenon which he convincingly argues is of basic importance to the structure of Celestina. This book will doubtless change the way in which scholars understand and interpret Celestina, influencing work on the play for years to come."
"There is much wealth in this volume: a wealth of illustrative material on the attitudes toward melancholia and dream theory from Classical times to the Renaissance, coupled with a scholarly and reasoned approach towards the interpretation of the first scene and of Calisto's condition of erotic melancholy."
Ricardo Castells is Associate Professor of Spanish at Florida International University. His previous book, Calisto's Dream and the Celestinesque Tradition: A Rereading of Celestina, was published by the University of North Carolina Press in 1995.