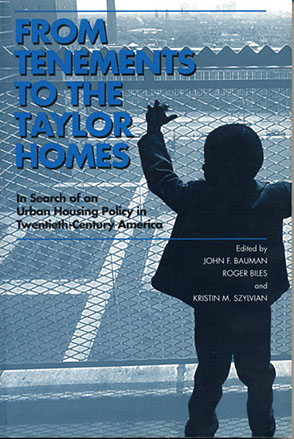 From Tenements to the Taylor Homes
In Search of an Urban Housing Policy in Twentieth-Century America
Edited by John F. Bauman, Roger Biles, and Kristin M. Szylvian
Buy
From Tenements to the Taylor Homes
In Search of an Urban Housing Policy in Twentieth-Century America
Edited by John F. Bauman, Roger Biles, and Kristin M. Szylvian
"This volume brings together a talented group of historians known for their work on the city and its housing. The result is an important book that also is assignable in undergraduate and graduate courses. It should emerge as the standard in the field for many years to come."
Description

Reviews

Bio

Subjects
Authored by prominent scholars, the twelve essays in this volume use the historical perspective to explore American urban housing policy as it unfolded from the late nineteenth through the twentieth centuries. Focusing on the enduring quest of policy makers to restore urban community, the essays examine such topics as the war against the slums, planned suburbs for workers, the rise of government-aided and built housing during the Great Depression, the impact of post–World War II renewal policies, and the retreat from public housing in the Nixon, Carter, and Reagan years.
"This volume brings together a talented group of historians known for their work on the city and its housing. The result is an important book that also is assignable in undergraduate and graduate courses. It should emerge as the standard in the field for many years to come."
"These 12 historical essays explore the roots and evolution of federal low-income housing policy. Relying on primary sources, contributors take readers from Progressive-Era housing reform to the recent flirtation with New Urbanism. Arranged chronologically, individual chapters address (among many other themes) wartime housing, postwar public housing, the rise of federal mortgage subsidies and suburbanization, racial discrimination, inner-city decline, and the move to community-based housing programs. Every chapter is well researched and well written, and the book has a coherence not often found in edited collections. An introduction frames the issues and an epilogue briefly reviews current policies. Useful chronology, bibliographic essay, and numerous illustrations. This is an impressive book; its exemplary essays provide the historical overview that researchers and policy makers need to function effectively. It would also make an outstanding classroom text."
"Well written and researched, jargon free, and superbly organized, the volume will appeal to a broad academic audience and to general readers who are interested in housing and urban development."
John F. Bauman is Research Professor of Community Planning and Development at the Muskie School of Public Policy, University of Southern Maine and Professor of History, California University of Pennsylvania. He is the author of Public Housing, Race and Renewal: Urban Planning in Philadelphia, 1920–1974 (1987) and, with Thomas Coode, In the Eye of the Great Depression: New Deal Reporters and the Agony of the American People (1988).
Roger Biles is Professor of History at East Carolina University. He has written several books, including Richard J. Daley: Politics, Race, and the Governing of Chicago (1995) and The South and the New Deal (1994).
Kristin M. Szylvian is Assistant Professor of History at Western Michigan University.