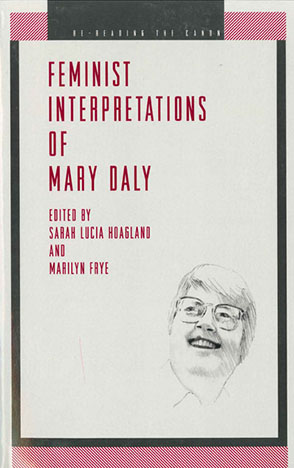 Feminist Interpretations of Mary Daly
Edited by Sarah Lucia Hoagland and Marilyn Frye
Buy
Feminist Interpretations of Mary Daly
Edited by Sarah Lucia Hoagland and Marilyn Frye
"The editors' introduction is a luscious piece of feminist scholarship that mirrors the individual authors' attention to Mary Daly's call for creating oneself through appropriation of language and use of metaphor. Further, Hoagland and Frye's introduction gives readers an insightful, insider's glimpse into feminism's internal debate about diversity and inclusivity."
Description

Reviews

Bio

Subjects
This open-ended anthology is a journey into the very canon that Mary Daly has argued to be patriarchal and demeaning to women. This volume deauthorizes the official canon of Western philosophy and disrupts a related story told by some feminists who claim that Daly's work is unworthy of re-reading because it contains fatal errors. The editors and contributors attempt to prove that Mary Daly is located in the Western intellectual tradition. Daly may be highly critical of conventional Western epistemological and theological traditions, but she nevertheless appropriates themes "out-of-context" for the building of her own systematic philosophy.
The following are just a few of the many themes explored in this volume:
• the question of subjectivity understood as an ongoing process of be-coming
• the ambiguity of the need for feminists of colonial nations to speak out about violence against women in other parts of the world while that speaking carries with it the stamp of a colonial location
• the territoriality of lesbian and women's space
• the theological dimensions of twentieth-century Western philosophy.
Contributors are Wanda Warren Berry, Purushottama Bilimoria, Debra Campbell, Molly Dragiewicz, Frances Gray, Amber L. Katherine, AnaLouise Keating, Anne-Marie Korte, María Lugones, Geraldine Moane, Sheilagh A. Mogford, Laurel C. Schneider, Renuka Sharma, and Marja Suhonen.
"The editors' introduction is a luscious piece of feminist scholarship that mirrors the individual authors' attention to Mary Daly's call for creating oneself through appropriation of language and use of metaphor. Further, Hoagland and Frye's introduction gives readers an insightful, insider's glimpse into feminism's internal debate about diversity and inclusivity."
"The anthology reflects the depth, breadth, and process of Daly's writings, demonstrating that her thinking continues to transform and spiral in novel ways. In this way its very form functions as a counter argument to the critiques of Daly as an essentialist. Hoagland and Frye have put together an excellent text that every college library and women's studies office should own."
"Feminist Interpretations of Mary Daly provides a thought-provoking collection of writings on one of the most influential and controversial radical feminist thinkers. The contributors to this anthology discuss a wide range of topics, considering Daly as theologian, linguist, ontologist, (meta)ethicist, and epistemologist."
Sarah Lucia Hoagland is Professor of Philosophy and Women's Studies at Northeastern Illinois University.Marilyn Frye is Professor of Philosophy at Michigan State University.